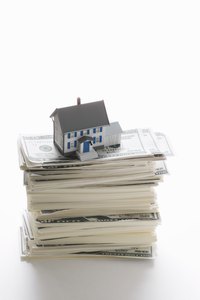 Renting a room in a private home can be cost-effective for people who can't or don't want to rent an apartment or house. For many people who rent rooms, paying the monthly rent in cash is necessary or convenient, especially for those who don't have bank accounts or work jobs that generate a lot of cash such as bartending or waiting tables. If you're looking to rent a room in a private home and pay rent in cash, you need to find a landlord who is amenable to that request.
Check Your Local Listings
To find a room in a private home in your area, check your local classifieds as well as websites such as Craigslist. If you must pay your rent in cash, ask the landlord if this is acceptable right off the bat. This way, you won't be wasting your time meeting the landlord and checking out the room, only to be told that the landlord does not accept cash.
Include Cash Agreement in the Lease
When you've found the room that you want to rent and the landlord is drawing up the lease or rental agreement, ask him to include a clause that allows you to pay rent in cash every month. This will protect your right to pay the rent with cash every month until the end of your rental period.
Never Mail Cash
Make your cash rental payments on-time and in-person. Never mail your cash rent to your landlord -- it could get lost or stolen, and you would be responsible for paying for that month's rent again. Pay only your landlord or an authorized agent of the landlord directly.
Obtain a Reciept
Always get a receipt from your landlord every time you pay him cash for rent, deposits or other fees. Unlike checks or money orders, cash leaves no paper trail that proves you paid your rent, so have your landlord or property manager write you a clear receipt stating your name, address, amount of rent paid and the date. Have him sign the receipt before giving it to you, and keep the receipt in a safe place. It may even help to make copies just to be on the safe side.