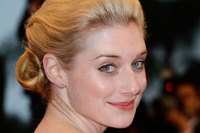 The Gibson Girl, named after the work of illustrator Charles Dana Gibson, has come to symbolize women at the turn of the 20th century. Recognized by her bouffant hairstyle, embellished shirtwaist and practical skirt suit, the Gibson girl represented both young women entering the workforce and women who lived more traditionally; the style was, regardless of its practicality, associated with some degree of social status and wealth. The style of the Gibson Girl, wearable and functional, continued with some minor changes until before the first World War.
Underpinnings
The Gibson Girl hadn't shed her corset, even though her everyday attire was a bit more practical. The corset pushed the bust out and forward and the hips back, creating a distinct S-shaped silhouette that was considered healthier than earlier corsets. The corset did not slenderize, but did reshape the body to fit the ideal of the period. A chemise and pantaloons completed her underwear, whether she was young or an older woman.
Dress
Her daily outfit consisted of a long, gored skirt and a blouse or shirtwaist. The skirt was most often made of wearable, durable and practical wool in neutral colors. Shirtwaists were available from retail catalogs, such as the Sears catalog, or could be sewn at home. Lace, pin tucks and other details were used to decorate the blouse, often in combination to create embellished panels down the front of the blouse. While many shirtwaists were quite feminine, others were collared and could be worn with a necktie, much like a man's shirt, or paired with a floppy bow. This outfit could be worn for a variety of daytime activities, including traveling, visiting, errands, shopping, or office or other work.
Style
One of the most noticeable traits associated with images of the Gibson Girl is her hair. The hairstyle was quite full around the face, creating a bouffant appearance at the hairline, before being gathered into a bun on the back of the head. Women collected hair from their brushes to make rats or supports for the bouffant styles or relied upon fake hair or purchased hair to add to their own. A hat, gloves and boots completed the Gibson Girl's overall look.
Culture
Charles Dana Gibson's illustrations were in many of the magazines of the period, accompanying articles about daily life and providing an example of the ideal. The Gibson Girl wanted to be witty, optimistic and urban, interested in modern life and culture. She was the new woman of the age, able to leave her home, consider the possibilities of college or a career and engage actively with society. She was poised, feminine and independent.