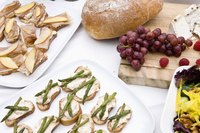 Restaurants collect sales taxes for state and local authorities, holding the funds in trust until they are sent to tax offices. Since food gets taxed when sold, food businesses don't pay taxes on the foods they buy for resale. Food suppliers don't tax food supplies on company invoices, but many food businesses buy food at food clubs, warehouses, grocery stores and farmers' markets. Tell these vendors that you are buying for resale and supply your tax number for a tax exemption.
Settling Your Tax Account
Each state has different rules, and you might need to pay the tax and deduct it from the taxes you forward to authorities. You must also pay taxes on food that you supply as free samples and withdraw for personal use. When you buy cleaning and maintenance supplies from suppliers or stores, you pay standard state taxes. Your suppliers might require you to file a tax exemption certificate each year. If you buy food for employees or customers at wholesale prices as a personal favor, you must charge tax. Taxing authorities often require that you charge and pay taxes for free meals offered in two-for-one meal deals, at least for the value of the ingredients.
Understanding Tax Structure
States have general or special tax rates for foods, and many states authorize local meals taxes that cities charge to fund government services and initiatives. Your tax rate and exemptions depend on local rules, and taxes might go to separate taxing authorities. Meals taxes can complicate calculations because some foods qualify for reheating at home, and these usually aren't subject to meals tax. Cold beverages, cold foods you use to make meals at home, loaves of bread, or whole cakes might be exempt from meals taxes, but a slice of cake or a muffin qualifies as a ready-to-eat meat and is taxed. All items you sell are subject to general state sales tax unless you provide foods that other companies resell, and you must collect tax on each sale. Some states either don't tax foods for home consumption or tax these foods at lower rates.
Costing Foods for Sales Tax Computation
Figure food costs for meals on your menu by breaking down costs. Use percentage formulas to determine ingredient costs in each product. Add average waste and shrinkage percentages to make your estimates accurate. You can use these figures to calculate any sales taxes you owe for food you give away, use personally or provide employees at reduced rates or through payroll deductions. Foods that you supply employees for your convenience might not be taxable in your state, so check local regulations. Use online food costing applications or software programs to facilitate costing meals and food products.
Collecting Taxes
Food sold for consumption on your premises is always taxed by the state and city, but takeout food taxes vary, and some charitable organizations qualify for tax exemptions. Vending-machine foods might require state taxes or both state and city levies. Caterers, food businesses and retail stores apply for taxing certificates to get an identification number that authorizes them to collect taxes. Wholesalers must also apply for tax numbers because they are required to get exemption certificates from the companies they supply for resale. Manufacturers that only sell to distributors or wholesalers might not need to register for taxes unless they handle exemptions. Farmers and artisan food makers that sell retail products at farmers' markets, fairs and festivals must collect taxes in most states.