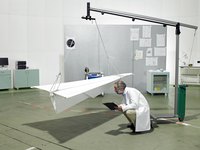 Research and development is the continuous pursuit of new innovations and creativity in business processes. R&D business strategies require investing in time and resources to break new ground and overcome emerging challenges This way, you can synergize your core competencies, optimize efficiencies in your existing business processes and enhance customer satisfaction.
Tax Incentives
Your business earns tax credits each time you pursue R&D activities. The federal government subsidizes your R&D initiative through a tax credit that is equivalent to 20 percent of a predetermined base amount related to your total expenses on the R&D. The tax credit has no ceiling and you can claim it year after year until you complete your R&D project. This effectively reduces your R&D costs and allows you to price your products competitively once they hit the market.
Ground-Breaking Discoveries
Effective R&D programs generate new knowledge for advancing your business growth objectives. They open up your business to ground-breaking discoveries and advanced technological inventions capable of improving your competitiveness. This enables you to differentiate your products and achieve a competitive edge over your market rivals.
Prediction of Future Industry Trends
R&D helps you predict future trends and influence major transformations in your industry of specialization or target markets. For example, The New York Times Company uses trends presentations of its R&D lab to gain visionary insights into the potential implications of future technological developments to the behavior of consumers, privacy issues and the media sector as a whole.
Unique Selling Proposition
Unique selling proposition is the set of attributes that differentiates your product from other products in the market. The USP prompts consumers to choose your product over those of your competitors. For example, if you are a jewelry manufacturer, there are certain product features that will make customers prefer your engagement or wedding rings over your competitors' rings. R&D provides you with the opportunity to consistently improve the uniqueness of your products to boost your sales volumes and stay ahead of your rivals in the market.
Diversified Income Streams
Whenever you make and new discoveries, the patented discoveries can be long-term sources of income and royalties. Patents are also valuable intangible assets in the business. As such, successful R&D programs can diversify your business income and asset base.