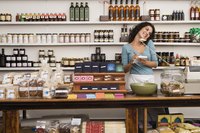 Where you sell your product is one of the four main concerns of the marketing mix and can be just as important to your success as your product, price and promotions. Understanding how selling directly to your customers differs from having them come into a retail location will help you decide if it's best to sell all or some of your products using either method.
Direct Selling
When you sell direct, you initially contact the customer instead of vice versa. This is typical of companies that use salespeople to visit commercial clients or retail businesses that sell door to door. Other methods include phone sales, selling online, direct mail and direct-response advertising, such as TV infomercials or radio ads. Some direct selling includes multilevel marketing, by which individual distributors host in-home demonstrations or parties.
Storefronts
Some businesses create brick-and-mortar locations and place their wares inside, requiring customers to come to a specific location. These businesses drive traffic through a combination of a high-traffic location, marketing communications and word of mouth. In some instances, businesses that make a product own their retail locations. In other cases, businesses use retailers to sell for them. In this latter scenario, the business might hire a wholesaler or distributor to get its products into large retailers, or it might approach the retailer directly.
Direct Selling Pro and Cons
The benefits of direct selling include reduced costs, because the business doesn't have to own or lease real estate and absorb all of the costs of maintaining a space. Direct sales allow those who sell to commercial businesses to demonstrate the product where it will be used, helping the buyer better understand the benefits. If a business uses a sales force to sell directly, it can develop personal relationships with clients but will have to absorb the costs of travel, lodging, meals and entertainment unless it conducts in-house phone sales. These costs don't exist if the business uses multilevel marketing or independent sales consultants -- the methods used by companies such as Amway and Avon. Direct-selling methods that allow buyers to visit a website or to call and order encourage impulse buys and give customers the convenience of not having to leave the house. As more people gravitate to making purchases on the Internet, direct selling increases sales opportunities.
Storefront Pros and Cons
While producer-owned or leased storefronts add expenses to selling costs, they allows the business to have more face-to-face and intimate contact with customers than some forms of direct selling. When a business owns its storefronts, it doesn't have to worry about selling next to competitors. If a business uses a wholesaler, retailer or distributor, it might reach a larger customer base than it could on its own but must pay a commission on sales, reducing its profit margins. It might also have to compete next to similar products. If a business can locate a storefront in a high-traffic location, such as a mall, it might not need much advertising and promotion and can rely more on social media and word of mouth. In multi-retailer locations, such as a mall, the property owner spends marketing dollars bringing people to the location. Unlike online and radio and TV selling, storefronts usually don't give customers 24-hour access to make purchases. If customers want the product in their hands immediately, a storefront lets them take what they buy with them, unlike when they place online orders or order through a sales rep.