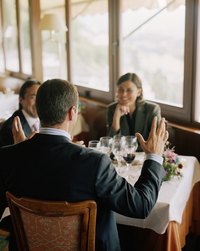 Simple gifts and thank-you notes to customers, vendors and suppliers don't set you apart with your business partners and might even come across as gratuitous formalities. A more effective way to show gratitude for long-term business relationships is to create strong partnerships that show you can help your business associates meet their goals, not just vice versa.
Analyze Your Partners
Compile a list of your customers, vendors, suppliers, lenders, media contacts and others with whom you work on a regular basis. Identify those you can't easily replace and who have significant value to your company. Write a brief summary of their businesses, what they need to succeed and how you can help them do so. This might be as simple as paying your bills on time or referring business to special partners. It might not hurt to let them know you're sending them clients.
Strengthen Your Relationships
Write specific plans for working with your business partners beyond simply selling to them. This shows you want to maintain long-term relationships with them. For example, work with customers to identify their potential annual demand, then create a plan that ensures you can deliver what they need when they need it at the best possible price. This might include setting up a monthly or prepayment strategy that allows them to pre-stock your products and store them. In addition, you can provide your media contacts with exclusive interviews and let them use you as a testimonial in their marketing material. Offer on-site visits to make sure they are using your product to its maximum benefit.
Create a Newsletter
Send your customers, potential customers and the media a quarterly newsletter that has more than just product information. Make sure to include case studies and customer spotlights that show how your long-term partners can succeed using your product or service. Provide relevant industry news from trade associations, business websites, government agencies and academic institutions, making sure to credit your sources. Profile your staff so customers get to know the people they speak with on the phone as something other than a disembodied voice.
Set Up an Advisory Board
Let your customers know you want to make products and provide services that fit their needs by creating an advisory board. Hold a retreat, an office meeting or a half-day seminar at a conference they attend. Conduct at least one written survey annually and make at least one personal phone call discussing what you can do to improve your products, customer service, delivery and any other aspects of your business that will make you a preferred provider. Share the results of surveys and focus groups with your advisory board members to let them see the results their participation provides.
Gifts and Discounts
Use the information you've gleaned about their personal and professional interests to send unique gifts to each client. Offer pricing discounts for long-term customers based on their order volumes and payment history and let them know they are private offerings not available to all of your customers. Get permission to place their banners and links to their websites on yours. Offer to send introduction letters or act as a reference to potential customers for them. Buy them professional magazine subscriptions. Many publishers will print "A gift from Smith & Sons" on the mailing label, reminding your partner you have an ongoing relationship. However, make sure a customer will stay with you for the long term before offering freebies and discounts to keep your costs down.