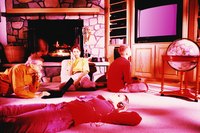 Television is an important medium used by advertisers to deliver commercial messages to targeted customers. While advantages of television include the ability to reach a lot of people with a creative message, it does have some limitations relative to other traditional media. In particular, commercials often suffer from a lack of audience attentiveness and they can get expensive for local companies.
Creative Opportunities
Relative to other media, television has significant creative opportunities. You can tell a story and creatively mix backgrounds, lighting, settings, characters, action, movement and sounds. Advertisers often use the opportunity to demonstrate their products to the audience. Sellers of cleaning products, for instance, may show how their brand cleans or disinfects effectively.
Reach Lots of People
TV remains one of the best media options to reach a lot of people. In a local market, you can potentially target thousands or tens of thousands of audience members during a given show or time frame. You can also select a particular target market based on shared interest in certain stations or programs. A local retailer may simply run a series of ads on a local network affiliate station to create brand awareness.
Budget Challenges
One of the most significant limitations of television advertising for small businesses are the costs. It typically takes at least $3,000 to $7,000 to produce a local commercial, though rates vary by location. Then, it costs thousands of dollars for a package of spots in a month. The actual price of your ads varies based on the audience and time frame, but the larger the audience, the higher the price.
Message Life
A television commercial has a fleeting message. It runs for 30 to 60 seconds and before the next commercial or the show comes on. The nature of commercials means you typically have to hit individual audience members with multiple exposures before the ad has a memorable effect. This contributes to the high cost of placements. Customers generally have negative attitudes toward TV commercials, so your message doesn't resonate with distracted viewers or those that fast-forward through recorded programs.
Geographic Segmentation
You can often segment a TV audience demographically or by lifestyle interests. However, television has limited geographic segmentation opportunities. A local business can't pay just to reach its town or community. It must pay to deliver ads to the entire local market for the television station. This can lead to significant waste in local TV advertising.