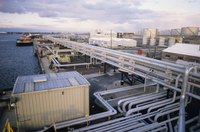 Sole proprietorships and limited partnerships are different ways of organizing a business. In a sole proprietorship, one business person owns the business and takes responsibility for it. Limited partnerships let that business person bring in partners that share in profits and losses -- but not in personal liability -- for the performance of its company or for its actions in the marketplace.
Additional Capital
One of the biggest benefits of going to a limited partnership instead of a sole proprietorship is that you can tap into additional capital. As an LP, you can sell partnership units to outside, silent partners. You can use that income to fund expansion of your business, or as a part of your exit strategy to give you some value for what you've built as you work on a transition plan to your next opportunity or to retirement.
Market Credibility
Sole proprietorships have an image of being a business type chosen by mom-and-pop operators. As such, when you go into the market to look for major clients or to source financing, it could affect the perception of your business. Limited partnerships, on the other hand, are business types that are used by real estate developers, oil and gas pipelines and other large concerns. They're known and understood.
Estate Planning
One additional use of the LP is as an estate planning tool. Family LPs let you put your personal assets, including the ownership of your business, into a separate legal entity. As you transfer assets into the family limited partnership, they get separated from you and protected from your creditors. In addition, their value can be reduced so that the amount of money that you leave behind decreases, leading to less estate tax liability. At the same time, you can still retain control of the assets as the general partner of the family LP. Properly setting up and using family LPs as a tool to protect your business and other assets can be complicated and, as such, you may choose to get help from an accountant, attorney or both.
What the L Is an LLP?
LPs share one key drawback with sole proprietorships -- personal liability. While the limited partners in an LP aren't personally liable for the business, every LP has one general partner who is. If you're the general partner of an LP, you are in a very similar legal situation as you are in a sole proprietorship. With this in mind, setting up a limited liability partnership, which gives you the same legal protections as your limited partners, may be an even better option. That extra "L" spells legal protection for you as the senior partner. On the other hand, it may also spell additional tax liability for your partners.