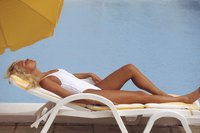 Bronzed, sun-kissed skin may look appealing, but it comes with a price. Time in the sun or in tanning beds can take a toll on your precious skin. While some may argue tanning is relaxing and helps the body produce vitamin D, a tan is actually sun-damaged skin, even if it does not appear red or burnt. After the glow of tanned skin fades away, wrinkles and sun spots may be the end result.
Brown Spots
Also known as hyperpigmentation or liver spots, brown spots can appear at any age -- not just in old age -- and are the result of sun damage. It can take years for them to show up. Patchy discolorations on the skin can also present themselves, leaving the skin looking uneven and less than glowing. Brown spots do not fade on their own. Some laser treatments may help remove them, but this can be costly and several treatments may be required.
Wrinkles
Collagen and elastin are the building blocks of beautiful, youthful looking skin. As we age, our bodies produce less of these two skin elements. Tanning beds and outdoor sun exposure speed up the aging process and and break down collagen. With the breakdown of collagen, wrinkles and fine lines form on once smooth and plump skin. With this also comes loss of firmness in the skin and eventually, sagging skin.
Other Unsightly Skin Issues
Too much sun on your face can invite red veins to pop up, known as broken capillaries, on your cheeks, nose and ears. Aside from brown spots, which often occur on the face, hands, arms and chest, white macules may also appear. They often show up on the arms and legs and present a very blotchy appearance.
Skin Tumors
The most grave side effect of sun damage and tanning, skin tumors can either be non-cancerous or cancerous. Seborrheic keratoses is non-cancerous, but it can often be mistaken as a cancerous skin lesion. It can vary in shades of black or brown, and is waxy in appearance. Actinic keratoses, another non-cancerous skin tumor, has a rough, white or pink appearance and often shows up on the face. Cancerous skin tumors usually appear in places that get the most sun exposure, such as the face and chest. A mole with an irregular shape or border may be cancerous. Moles that change over time may also be cancerous.