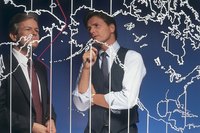 Hypothetical scenario marketing blends traditional marketing techniques with sophisticated forecasting tools to determine the marketing strategies for possible new products. Marketing experts use customer surveys and focus groups to gauge customer interest in products currently under development. These techniques enable marketers to find which products have the highest potential for success while avoiding those that have the highest probability of failure.
How Hypothetical Marketing Works
Hypothetical scenario marketers devise potential situations as part of a product's marketing strategy. They create these scenarios during the development phases of a new product to predict the reactions of their potential customers before the product hits the marketplace. The marketers gather the data from customer surveys, interviews, and other interactions and analyze the results. A thorough analysis of the data enables marketers to develop strategies and tactics for launching the product's marketing campaign.
Hypothetical Marketing Applications
Marketers often use hypothetical scenarios to develop assorted variations of a product and run marketing tests on these newer versions. These variations can include changes in color, size, logos or packaging. For instance, in 1992, the Pepsi-Cola company released Crystal Pepsi, a clear, caffeine-free version of its trademark cola drink. The drink tested well in smaller markets, but did not achieve lasting success. The company discontinued the Crystal Pepsi brand in 1994.
Hypothetical Marketing Techniques
Marketers test hypothetical scenarios on the four criteria found in typical marketing plans: product, placement, price and presentation. The marketers use hypothetical product scenarios to determine whether the product will meet the customer's needs. Placement scenarios test ideas on where and how the product will be displayed. Price points show marketers the prices that customers would be willing to pay for such a product. Presentation scenarios inform marketers on customer preferences for logo, color scheme and packaging.
Hypothetical Threats
New product launches involve many details. While some of these scenarios show the product in its best light, other situations can threaten the product's viability before it hits store shelves. Hypothetical scenario marketing also involves analyzing any potential threats that would hurt the product's success. Some of these scenarios include political, legal or economic events that can overshadow a product's beneficial qualities. Other scenarios involve analyzing the behavior of competitors through price wars and market share changes.