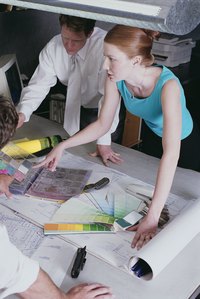 A quality management plan sets the criteria for measuring the quality level of products and services. It's a guide that details activities that contribute to meeting quality standards. Businesses use quality management plans to find products and processes that don't conform to standards so they can take corrective actions.
Plan Objectives
The ultimate goal of a quality management plan is to make sure products and services meet the customer's expectations. The plan, therefore, must set out the objectives for meeting this goal. Design quality objectives in accordance with customer demands. Ensure that all objectives are measurable, can be fulfilled in a set period and address customer expectations. Establish objectives at the appropriate management levels and provide enough resources to meet these objectives. Setting objectives enables an organization to show and measure the results of a quality management plan.
Key Processes
Key processes have a maximum impact on the success of a company. It's vital to identify and include your organization's key processes in your quality management plan because this element ensures that the organization stays competitive. For example, if you run a fashion retail business, typical key processes include purchases and supplier sourcing, quality control, financial costing, sales and customer service. In identifying your organization's key processes, consider critical success factors, which are essential areas in your business operation that you must execute well to attain your organization's objectives. Also, include standards for measuring critical success factors. For example, increasing customer satisfaction might be a critical success factor in the fashion retail business, and you can use surveys and quality metrics to measure performance.
Roles and Responsibilities
Quality management plans must outline the roles and responsibilities needed to achieve objectives. This segment is essential because it ensures commitment and accountability at all levels. Describe your staff members' primary quality management tasks. Indicate responsibilities for activities such as mentoring, auditing processes and work processes. Incorporate their role in preventing quality issues and the corrective actions they must follow if these issues occur. Create an organizational flowchart that includes descriptions of managers and key employees' accountability.
Quality Control Activities
Quality control activities monitor outcomes or process results. It is a significant element of your quality management plan because it verifies whether the outcomes meet your quality standards and satisfy clients. It also prevents and resolves errors. You must be able to identify quality control activities for each process. In your plan, establish when and how often you'll conduct the quality control activities. Also, include any quality management tools that you would need in the process. These tools might include cause-and–effect diagrams for determining the causes of problems and control charts to identify process changes over time. Examples of quality control activities include quality control checklists, testing processes and statistical sampling.