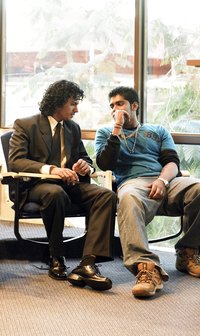 What you wear to a high-class gala is different from what you wear to an evening outdoor wedding, but both cases are considered formal to certain extents. Although casual and business-casual attire share a few of the same clothing items, different rules apply to each ensemble. Identify the different types of attire so you can look your best while still dressing appropriately for each occasion.
Black-Tie Affairs
For occasions described as black tie, men's attire should be on the formal side; however, there are nuances among black tie, black-tie optional and creative black tie occasions you need to be mindful of. When an event is strictly black tie, men are expected to wear black tuxedo pants and a matching jacket with a white formal shirt underneath. Any kind of accessory, from cuff links to suspenders to cummerbunds, should be of the black-colored variety.
Conversely, black-tie optional calls for a tuxedo or simply a dark suit with conservative accents such as a neutral-colored tie.
Creative black tie builds on the aesthetics of a standard black-tie outfit, but the tuxedo is accented with playful or trendy items. A patterned silk tie paired with suspenders of the same pattern, for example, would complete a typical creative black-tie suit.

Business Attire
Business attire is traditionally separated in two categories: formal and casual. The former consists of a dark two-piece or three-piece suit, a dress shirt, a conventional tie and nice leather shoes paired with dress socks of a darker shade.
Business casual affords a sport coat with slacks or a blazer with khakis. Button-down, dress and polo shirts are all acceptable "biz casual" garments and can be worn with a tie. Leather loafers complete the outfit.

Codes for Casual Dress
Like business attire, casual dress is categorized in two styles: dressy casual and casual. Dressy-casual outfits are very similar to business-casual outfits, although ties are not expected. Shoes such as leather boots or even stylish boat shoes (in good shape, of course) can be worn in dressy outfits.
Casual attire extends to jeans and shorts, but garments should be free of holes. Plain short-sleeved button-downs and T-shirts are also popular forms of casual attire. Footwear for this style of dress include sneakers and sandals.

Other Guidelines
Other forms of attire include semiformal and festive. Semiformal attire is commonly requested at wedding events. Weddings that begin late afternoon or early evening (around 5 p.m. and after) usually request semiformal clothing. This entails something very similar to business-formal attire: a dark suit, dress shirt, tie, and nice leather shoes and dark socks.
Festive attire, as the name suggests, is cheerful and worn around a holiday or other celebrated event. Although clothing remains on the business-casual side -- sport coat or blazer with slacks and an open-collar or dress shirt -- hints of holiday themes may transpire. Socks with a subtle candy-cane design might be worn around winter holidays. Ties with American flag patterns are considered festive and may be worn around Fourth of July.