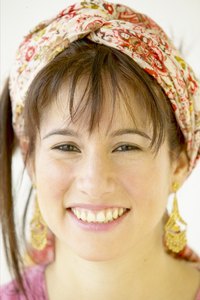 Turn bad hair days into good ones by wearing a fashionable headband. This indispensable hair accessory can re-shape your hairstyle, keeping it pushed back and away from your face for an eye-catching and worry-free style. Since headbands come in solid colors, prints and textures, get to know a few styles to coordinate with your hairdo. Whether you wear your hair short or long, this accessory can instantly change your do from drab to fab.
Slim Headbands
Add a touch of glam to your pixie-cut hairstyle with a slim, plain or rhinestone headband. Select a style that sits flat across your head -- a black, satin-covered headband -- and position it at the midway point of your crown. Style your bangs or tease your hair to add a little lift to your do, giving your headband center stage. An ultra-slim headband worn snugly around your head in neutral shades -- ivory and silver -- adds a touch of sophistication.
Thick Headbands
If you have shoulder-length hair and you want to sport a sassy short-length do without sacrificing your locks, wear a loose, chignon bun or French twist with a thick headband. You can add a deep part and wispy curls, wearing the hairstyle to the side of your head. Create a red-carpet look by donning a thick, shimmery headband with crystal-encrusted details across the top of your crown or an embossed style. If you choose an embellished headband style to make a fashion statement with your ensemble, be sure to avoid earrings or a necklace -- you don't want to look like an enormous diamond.
DIY Ribbon Headbands
If you love wearing clothing adorned with ribbon trims, extend the look for your hair accessories and make your own DIY ribbon headband. Measure your crown with a flexible tape measure from the nape of your neck to the top of crown. Use this measurement as your base length for the ribbon. Multiply the length by 2 1/2 times and cut your ribbon. Position the halfway point of the ribbon on your crown and wrap it twice. Start wrapping from your crown to the nape of your neck and repeat from the nape of your neck to your crown. The ribbon ends will be at the top of your head. Tie the ends loosely and place the sexy, floppy bow to the side of your head.
Headband Wraps
Printed patterns and solid color fabrics are used to produce headband wraps. Although the length of the band varies, the width generally measures four inches in width. This headband type sits around your crown and wraps around your head once or twice, depending on the length. Short-length styles generally have self-fabric ties stitched at each ends of the headband for you to knot at the nape of your neck and secure in place. Decorative short-length headband styles also include snap closures or encased elastic inserts to keep the fabric band from shifting during movement. Wear a thick, jersey headband in a color that matches your hairstyle to keep those pesky hair strands in place.