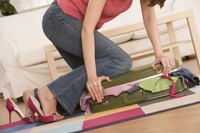 Your vacation is planned and your flights are booked, but now you have an overwhelming array of clothing sprawled across your bed ready to be packed. The choice between rolling versus folding your clothes for packing crosses your mind as you wonder which one best suits your needs. Picking only your favorite garments is hard enough -- don't make packing any harder. Whether to roll or to fold is a question easily resolved based on personal preference and your specific plans for your journey.
Luggage
The size and shape of your luggage is a determining factor when choosing whether to roll or fold your clothes. Weight restrictions also play a part. Rolling clothing allows for more space, so you can bring more items. However, stuffing your largest bag to the rim can result in an overweight bag and costly fees. If your luggage is a structured rectangular suitcase with wheels, folding your clothes can ensure a puzzlelike fit with the edges of your folds against the flat ends of the case. This keeps everything neat and organized. If you are traveling with a duffle bag, rolling your clothes gives you the freedom to pack to any shape. This limits movement and shifting and avoids a wrinkly mess.
Creases and Wrinkles
Although most hotels, motels and hostels offer irons, packing to reduce wrinkles and creases saves time and the stress of being caught ironless. Folded clothes are less likely to wrinkle but usually have a crease at each fold. Rolling clothes has the opposite problem; no folds mean no creases, but wrinkles appear due to the friction of the clothing. A good alternative is to mix the two by rolling fabrics that don't wrinkle easily and folding ones that do.

Time Consumption
If you are a last-minute packer, you want to get everything in your suitcase as quickly as possible. The best way to do this is to pull already-folded items off your shelves and lay them in your luggage as they are. If you are the type of person who packs days in advance, consider rolling the clothes. Rolling is more time consuming as each individual piece needs to be turned over numerous times until the roll is complete. Folding is only a one or two-step process and is much quicker.
Destination
Packing for a two-week vacation at a single hotel is one thing, but packing for a cross-country jaunt with multiple destinations is another scenario entirely. When considering whether to roll or fold your clothes, keep in mind the number of stops you have. If you stay at one location and have the luxury of unpacking, you need not see all the options in your suitcase because you can hang up or put them away. If you live out of a suitcase for the length of your journey, folding clothes makes it easy to browse and pick your outfit for each day.