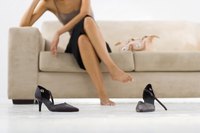 While buying a too-big shoe might seem like a great idea during a blowout sale, the reality is that wearing a shoe that's too large can be tough. Ill-fitting shoes can cause discomfort, rubbing and even blisters. If you have a little extra room in your shoes, don't shuffle in them praying your feet won't slip out -- instead, use an insole to create the perfect fit.
Small Shoe Cushions
When it comes to fitting your shoe, you have several options. A basic cushion that sits at the balls of your feet can add comfort and improve fit. These cushions create additional space to fill in too-large shoes by decreasing the space between the top of your foot and the top of the shoe. They also provide support at the balls of the feet which tend to hurt more quickly when wearing heels.
Heel Inserts
There are also inserts that go just at the back of the shoe and sit right around your Achilles tendon -- these inserts fill the gap between the heel and the back of the shoe. They're ideal for ladies whose feet aren't quite long enough to fill their shoes. Heel inserts also prevent friction which can cause irritation to the heel when walking. These inserts look like tape. Slip your shoe on to determine how wide the gap is, then apply some insert tape to your shoes as needed.
Insoles
Insoles cover the entire bottom of your foot. They come in different materials and thicknesses so you can find the one that you like best. Insoles can be found at any drugstore and at most shoe stores, in different sizes so you can find the one that best fits your foot. Gel insoles feel comfortable at first, but over time they break down and become less comfortable. Instead of gel, look for insoles made with long-lasting Poron.
Other Tips
Shop smart to avoid ending up with too-big shoes. If the gap between your heel and the back of your shoe is longer than the width of your thumb, it's best not to buy the shoe. If there's too much gap to fill in, your shoes will look and feel awkward. Try on new shoes at the beginning of the day. Toward the end of the day, your feet are generally a bit swollen so you may buy a shoe that fits well at the time, but feels loose later.