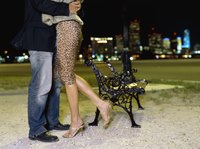 Stilettos were first invented in the mid 1500s, when Catherine de Medici desired a shoe that would add height to her barely 5" frame. Since then, the stiletto heel has remained popular with women of all heights, despite not being the easiest fashion trend to master. Walking in stilettos is an art, but by selecting the right shoe, and putting in a little practice, you can become a stiletto superstar.
Selecting the Perfect Pair
When it comes to comfort and practicality all stilettos are not made equal. A well made pair of heels will be much more easy to survive a day or night in than a flimsy pair. When shopping for a new pair of stilettos make sure the heel-spike stems directly from the center of the shoe's heel bed. It will be much more difficult to balance and walk in a shoe with a heel-spike that sits too far back or forward. Also, seek out a thicker heel, since they are more comfortable to walk in than skinny ones. A thicker heel distributes your weight more evenly for a more comfortable wear.
Breaking In
Once you have selected the perfect stiletto you may be tempted to slip them on and head directly out for a long work day, or a big night on the town. Resist this impulse. It is important to break your stilettos in before you wear them for a full day or evening. To break your new heels in, put on a thick pair of socks and walk around your house in your shoes for about two hours. If hitting the town in brand new shoes absolutely can't be avoided, make sure you wear them around your house with thick socks for at least 20 minutes first. This will help loosen up the fabric to prevent blister-causing friction.
Ducking Out
You may have heard that turning your toes outward is bad posture, but when it comes to standing in heels a slightly duck footed stance is the best one to assume. Turning our legs and feet slightly outward engages your hips and takes some of the pressure off of your ankles. It is also important to pay attention to your core. If you stand with your abdominal and lower back muscles firmly tightened, it will be easier to relax your legs and get comfortable in your shoes. Standing tall with your core engaged makes heels easier to endure.
Gliding With Ease
When it comes to walking in your heels, resisting the temptation to stomp is key. Instead of trying to imitate the bouncy strut models use on the runway think of gliding evenly across the floor. Since heels propel your body weight forward, remember to keep your head raised and your shoulders back as you take each step. Although stilettos place most of your body weight on the ball of your foot it is important to walk heel to toe, rather than aiming your toe at the ground as you step. Walking heel to toe will give you the most balance possible in your shoes.