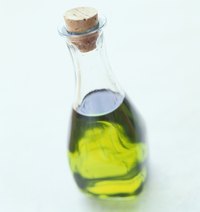 Following an allergy-friendly diet can be overwhelming and tricky at times. On a gluten-free diet you need to completely avoid all wheat, rye, barley and triticale and any foods or ingredients made from them. This means eating no traditional bread, pasta, baked goods, cereal, crackers or other snack foods unless the food is labeled as gluten-free. To eliminate soy, you need to avoid all forms of soybeans, including soybean oil, the beans themselves, tofu, tempeh, soy sauce and many foods containing soy protein in the form of textured or hydrolyzed vegetable protein. Most cooking oils are safe to use when following a gluten- and soy-free diet.
Olive Oil
Olive oil is a safe and healthy cooking oil to use on a soy-free and gluten-free diet. It's made by pressing olives, which are rich in fat. The resulting oil contains mostly a type of fat called monounsaturated fatty acids. These fats are more healthy than saturated and trans fats found in animal products and processed foods. According to the American Heart Association, eating more monounsaturated fat may help to lower your cholesterol level and may reduce your risk of heart disease and stroke. Olive oil also contains antioxidants, which help to protect your body from harmful free radicals.
Safflower Oil
Safflower is another healthy and safe cooking oil to use on a gluten- and soy-free diet. The safflower plant belongs to the sunflower family. Depending upon the extraction, oil from the plant can be high in linolenic acid, which is commonly used for salad dressings and cold preparations, or can be high in oleic acid, which is a more heat-stable oil for cooking. Oleic acid is a type of heart-healthy monounsaturated fatty acid. According to the U.S. Department of Agriculture, safflower oil is made up of 74 percent of these healthy monounsaturated fats.
Coconut Oil
Coconut oil can safely be used on a gluten-free and soy-free diet. This oil, made from the fatty flesh of coconuts, is solid at room temperature. You can use it as a cooking oil for sauteing, stir-frying and baking. Vegan recipes often use coconut oil instead of butter, shortening or lard. According to the Coconut Research Center, coconut oil contains a healthy type of saturated fat called medium-chain triglycerides. These fats don't require digestion in the same way other fats do. They are absorbed intact and your body can use them directly as energy. According to NYU Langone Medical Center, the fats in coconut oil may help to enhance athletic performance and improve body composition.
Other Plant Oils
There are a variety of other plant oils safe for use on a gluten-free and soy-free diets as well. Peanut, sesame, almond, walnut and sunflower oils can be used for cooking. These plant oils all contain heart-healthy monounsaturated fats. You can use them in place of any other oils when cooking. According to Cleveland Clinic, almond, avocado, sunflower and hazelnut oils are the best to use at very high heat while grapeseed, canola and peanut oils are better used for medium-heat cooking or baking.