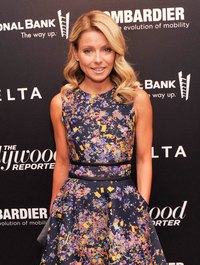 Transforming square hips into a softer, curvier silhouette involves boosting and minimizing strategic areas of the body. A bit of extra fabric around the hips and shoulders, with a little cinching at the waist, is instrumental in downplaying a stick-straight lower half. Play with a variety of details and finishes to visually downplay a boxy bottom half.
Skirting The Issue
Dress-up days make it easy for you to create a little extra curve at the hip. Lucky you -- a variety of skirt styles works well for your figure. The classic A-line shape flows gently over hips and thighs, giving a soft and shapely look. Peplum styles -- which feature a slim skirt overlaid with a separate panel that puffs slightly at the hips -- builds volume where you need it. The weight of a long, flowing maxi skirt builds and collects at the bottom, drawing the eye downward and softening square hips.
The Bottom Line
Add curve near the bottom of your frame to balance super-slim hips. Boot-cut jeans and slacks add just the right amount of volume at the ankle; a distressed finish often accentuates the hip, thigh and knee, rounding out the lower half. Try embellished pockets for an extra punch. Pick low-rise pants over high-rise; low-rise sets fabric and focus solely on the hips and below, while high-rise styles lengthen slim hips, exaggerating their square shape.
From The Top
If you don't wish to draw the eye downward, leading it upward can also balance square hips. Try tops that feature wide or detailed shoulders, such as cap sleeves or even puff sleeves. A sweetheart neckline widens the chest area in an angular shape for the same effect, just as a boat-neck top widens the shoulders. A bold statement necklace or large drop earrings also work well to refocus the eye upward.
Easy Dressing
Wearing a dress makes it especially easy to round out your hips, especially if you choose a belted style. A thin belt subtly cinches the waist, allowing fabric to fan out below it, calling less attention to boyish hips in the process. Try a wrap dress for instant slimming at the waist and gathering of fabric at the hips; a wide V-neck also draws the eye upward. An empire-waist dress cinches right beneath the bust, so the fabric below skims down over the tummy, hips and thighs, leaving your straight hips free -- and subtly camouflaged.