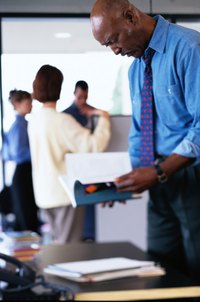 An individual employee, sub-committee or outside agency can be responsible for the development of specific organizational policies and procedures. Who gets assigned this task will depend on the topics or issues being covered and the employees or departments for whom the policies and procedures are designed, Procedures define how things are to be done within an organization while policies define the rules or guidelines under which these procedures are executed.
Human Resources and Compliance
Probably the most important set of policies and procedures your business will have to develop will relate to human resources and compliance. Employees are the pillar of an organization because without them, nothing gets accomplished. A human resources director, manager or coordinator usually spearheads the development of these policies and procedures, with input from a CEO or owner, along with other managers and entry-level employees. Federal and state laws mandate how your business handles specific workplace topics such as sexual harassment. However, when it comes to your organization's culture and goals, developing these policies and procedures is usually done by a team. Consider the creation of a committee consisting of a senior executive, departmental managers and entry-level employees if embarking on such an initiative.
Sales, Marketing and Operations
The head of sales or operations generally serves as the point person for development of sales, marketing and operation policies and procedures. Senior-level executives and managers outside these departments do not tend to be involved in this process. Sales processes, commission structures and incentives, marketing campaign execution and business development are department-specific. However, once these policies and procedures have been developed, reviewing them with senior executives and other departments to ensure support and resources are available is recommended.
Information Systems and Technology
While the head of information systems and technology for your organization should be responsible for the development of comprehensive information systems and technology policies and procedures, a contact from every single department should be included in this process. The IT department's primary function is to serve as a support system for the entire organization. As a result, senior executives and all departments should have a say in the kind of support and technology resources they would like to have at their disposal. The contact who will serve as the lead for developing the organization's IT policies and procedures must outline how she intends to support managerial decision-making, innovation, business process and operational support.
Considerations
Even though you may put together a team or committee responsible for developing specific policies and procedures, it is a good idea to have one main contact "own" or be responsible for the finished product. As a best practice, the highest title within a specific department should be responsible for that department's policies and procedures. Where documentation is concerned, you may consider outsourcing a manual or handbook to a third party or having it done in-house. Having the finished product reviewed by an attorney or your company's legal counsel is advisable.