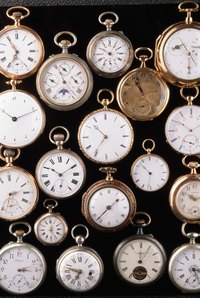 A pocket watch is an elegant accessory that calls to mind a bygone era of genteel society. Wearing one can lend a classic twist to a causal outfit, or bring a polished finishing touch to elegant formal wear. Today consumers can choose from genuine antique pocket watches, antique reproductions and new, modern styles. Understanding the different styles of pocket watches will help you select the right one to add to your wardrobe.
American Railroad Pocket Watches
Vintage pocket watch collectors regard American Railroad Pocket Watches as some of the highest quality watches ever made. These 19th century time pieces often perform as well as their brand-new counterparts, and their solid craftsmanship gives them a heavy feel of quality that is uncommon in today's marketplace. Generally these watches are large, with easy-to-read bold faces and are made of gold or silver. Top manufactures included Howard, Hamilton and Ball.
Antique Swiss Pocket Watches
While American Railroad Pocket Watches were manufactured by machines, Swiss watches from the same period were mostly handmade. Some American factories were able to produce a million watches a year in the 19th century. This was a number the Swiss could not meet working by hand. As a result, today, antique Swiss watches are more rare, but just as highly regarded for their quality. There are no major brands to look for when seeking a Swiss watch because production facilities were small. Generally Swiss watches were made in workshops of three to five people in the Valle de Joux region.
Minimalist Modern Pocket Watches
Today, manufacturers are rebelling against the ornate style of vintage pocket watches. Companies are producing high quality pocket watches that are sleek and minimal in design. Minimalist watches feature few or no numbers on the watch's face and no nobs or switches. These pocket watches are intended to function primarily as accessories rather than as timepieces. They may feature streamlined designs made out of light metals, such as aluminum, that make them comfortable to carry in a jacket or pants pocket.
Vintage Recreation Pocket Watches
If modern isn't your style, and antique isn't in your budget, a vintage recreation pocket watch may be right for you. Many online retailers carry them, and they can be found in a variety of styles for under $100. As an added bonus, many modern reproductions have the look of a vintage timepiece, yet do not require the daily winding that real antiques do in order to keep time. Plus, many vintage reproduction watches are made out of light metals similar to modern minimalist watches, making them comfortable to carry all day.