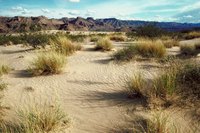 Although buying land may seem like a simple, direct task, often it requires much more research and diligence than purchasing a home or existing structure. Zoning, building restrictions and intended uses can make buying the right parcel seem like looking for a needle in a haystack. Additionally, buyers of rural land should be aware of future growth in the area, while purchasing rural land in arid or dry regions may involve special considerations.
Water and Power
The availability of water is an important concern for rural land in dry areas. You most likely will need to dig a well to obtain a water supply to the property. Well depth, water pressure and contaminants can be a cause for concern. Water testing in rural desert areas is essential to check for hazardous substances or sediment. Also, access to electricity can be a huge obstacle, especially if the well water needs an electric pump to supply potable water or irrigation.
Intended Use
Your intended use of the property should be a primary concern when gathering information. In addition to water and power, zoning, topography and land restrictions should be thoroughly investigated so that you aren't intending to use the land in ways that won't be allowed. Check with your local building officials, county planning department, or title company to obtain information on what may be allowed and what's not. It's also important to research any future building developments near the property.
Soil Suitability
Land that looks beautiful above the surface may have several potential problems lying underneath. Land in dry, rural areas tends to be either very rocky, sandy or both, which can cause problems for building purposes. Ensuring proper drainage and water table levels can make it impossible to install septic and sewer systems in certain locations, as can rock formations. A percolation test should be performed to assess the absorption rate of the soil to determine what kind of sewer and drainage system is required.
Accessibility
When buying any parcel of land, but especially in isolated desert areas, getting to the land can be a challenge. Some properties can be "land locked," meaning no legal access is available. Although it may look like a dirt road leading directly to the site, this could be a person's driveway and considered trespassing when traveled upon. Another common consideration for rural areas are shared maintenance agreements, where two or more owners share the responsibility of maintaining the access road.