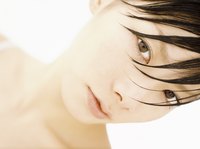 Couple spiky hair with long bangs and you'll create dramatic lines that draw attention to the face. There are numerous haircut styles to choose from -- unlike with other short cuts, a haircut with long and textured bangs will provide you with many options for styling your hair. Products will be vital to your look, however, since this type of cut can turn puffy fast without them.
Shaved
For a truly unconventional look, shave the head but leave the top and bangs long. To style, rub gel or mousse onto your fingertips and separate strands of hair by pulling them up toward the sky, pushing them off to the side or smoothing them down across the forehead. Finish with texturizing spray and accessorize with small decorative clips or barrettes.
Cropped
Styles that crop the back short while keeping the bangs long create a whimsical yet elegant appearance. An example is the pixie cut, which is distinguished by uneven, choppy bangs. To style, use gel to twist your bangs -- a few at a time -- on top of the head. On another day you can enhance the chunky quality of your bangs by scrunching them with gel and leaving them high on the forehead. For a short tousled look, rub mousse vigorously throughout the head and use gel to define small chunks of hair at the top.
Significant Part
A short haircut with very long bangs parted off to the side produces a simple and flowing affect. A schoolboy cut is an example of such a style. For this cut, the hair is cropped over the ears and the back is left short to medium. The long hair on top is pushed to the side in a significant part. The result is simultaneously tomboyish and feminine. To style, apply mousse throughout and use gel to texturize the bangs. For an additional feminine touch, add a small hair clip or decorative barrette.
Bold Cuts
For the adventurous soul there are always Mohawks and mullets. The Mohawk consists of a shaved head with a strip of long hair running down the middle. Mr. T made this haircut famous in the 1980s. Another daring cut reminiscent of the '80s is the mullet, which crops the sides short, but leaves the top and back long. Both cuts should be styled with plenty of gel to avoid hair puff. If you go with the mullet, you will be in good company -- the style has become a trend down catwalks and in fashion magazines. The look is not for everyone, though. As Laura Pullman, writing for the Daily Mail, noted after getting a mullet: "I stare disbelievingly at the spikes emerging from the top of my head and sprouting from my neck, and struggle not to cry . . . I look like the kind of girl who starts fights in nightclub toilets."