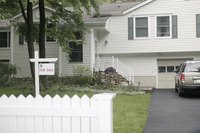 Sometimes appraisers don't see a home's true value. This can happen when you have a unique property that doesn't have comparable sales for the appraiser to consider. It also occurs when an area has multiple foreclosure sales that drive the selling price down, and appraisers don't adjust for the fact that your property isn't a foreclosure. Whatever the reason, if you're sure that your property is worth more than its appraised value, you can try to sell it at that price.
Adding Value
If your home's appraised value was low because of conditions that you can repair, like overgrown landscaping or minor cosmetic defects, fix them before you put your home on the market. Changing some of these small issues may be enough to allow your home to appraise for a higher value for a new buyer. You can also make some inexpensive upgrades -- like changing kitchen cabinet hardware, installing a new bathroom sink or painting your front door -- to squeeze out more value.
Handling The Old Appraisal
Have an honest conversation with your real estate agent about the old appraisal. Under some state laws, you might need to disclose it to buyers, especially if it's recent. Whatever decision you make, it's important to have a strategy to deal with the facts in the appraisal and show how it's mistaken. You'll use that plan to guide a new appraiser and, hopefully, get him to see the wisdom of your higher price.
Avoiding FHA Buyers
Unfortunately, if you want to sell your house for more than the recent value entered on an FHA appraisal, you probably won't be able to work with buyers that are using an FHA mortgage. When an appraiser completes an FHA report, it is entered into a database for every other FHA appraiser to see. For as long as the report sits in the database, other appraisers will see it and be unlikely to come up with a higher value.
Managing New Appraisers
When a new appraiser comes in, it's important to give her the information she needs to correctly appraise your home. Give her a detailed list of your home's features and of the upgrades that you've made. Provide measurements, lists of rooms and other basic "vital statistics" to prevent her from making mistakes. Finally, include detailed sales comps, focusing on properties that support your value. Hopefully, doing this will help her see the value in your home. You don't need to, and shouldn't, give her a copy of the old appraisal.
Bridging Financing Gaps
In appraisals, lightning can strike twice. As such, it's possible that the new appraiser will come up with the same low value and potentially leave the buyer's loan proceeds short of what he needs. In that case, you can start over again with another buyer, or try to come up with an arrangement with your existing buyer. Usually, you will end up either reducing your price or carrying back a second mortgage.