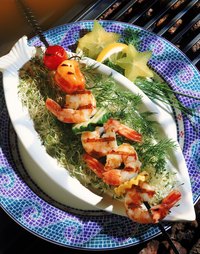 Goals are not just wishes and hopes for new seafood restaurant businesses. They serve as objectives actively sought and formulated even before the doors open to the public. These don't just revolve around sales and profit margins. Overfishing and the depletion of certain fish species have prompted seafood establishments to become more conscientious about the kinds of fish they serve, making sustainability an essential a part of seafood restaurant goal-setting.
Goal-Setting
Businesses typically have goals for different stages of their development, some focusing on the near future while others look further ahead. Best practices for companies include setting long-term "visionary" goals, with a time horizon of three to five years. Long-term goals look at the big picture and may be further divided into customer service, community, profit and growth goals. Once these larger goals are formulated, seafood establishments would use the "SMART" approach to tackle the goals in the short-term. This acronym helps businesses pinpoint goals that are specific, measurable, action-oriented, realistic and time-specific. An example might be "to achieve a rate of return for our investors of 15 percent for the next two years."
Mission Statement
One of the first places where seafood restaurants tackle their business goals is in the executive summary of their business plan. Within this section, the mission statement might briefly touch on some of the goals they have, which might be expressed as a philosophy or general approach. For example, in its mission statement, Maxie's Supper Club and Oyster Bar in Ithaca, NY discusses intangibles such as "To consistently provide our customers with impeccable service by demonstrating warmth, graciousness, efficiency. To have every customer who comes through our doors leave impressed by Maxie's and excited to come back again." Note that to measure the success at meeting these ambitions, a seafood company would have to further define how they would be measured and use applicable metrics to track effectiveness.
Sustainability Goals
An increasingly hot-button arena for seafood restaurant goal-setting involves preserving fish populations. Sustainability in this context involves managing fish species such that meeting current demand does not also adversely affect the species' ability to reproduce and be around for future generations, as well as maintaining the environment. For example, as of August 2012, Darden Restaurants, which is the umbrella company of Red Lobster, surpassed its goal of reducing water consumption in its restaurants by 2015 as part of its goal to minimize its impact on the environment to better serve its patrons and the community.
Market Analysis
Another part of the business plan where seafood restaurants specify goals is the market research section. Here, they review market research conducted on the seafood niche in their area and pinpoint who their target patrons are. Based on their findings, they might incorporate a market segmentation strategy. They might determine that their key patrons will be "Family Gatherers," "Nostalgic Southerners" and "Tourists." They would then set goals for attracting those audiences and create ways to draw the necessary traffic. For each group, they would devise a specific alluring angle, such as outdoor dining for tourists or heaping platters of seafood reminiscent of Friday fish fries for the nostalgic set, and tabulate estimated growth percentages for each segment.
Sales Forecasts
Sales projections, as illustrated by profit/loss and cash flow statements, break down a seafood restaurant's financial goals into specific numbers. To make these predictions, the restaurant has to make certain assumptions, such as no adverse changes in the economy and the continued availability of financing. As an example of such forecasting, the Blue Fish Grill estimated in its business plan that it would bring in about $37,000 per week, or $1.8 million a year, with net cash flow coming in at 4.5 to 6.6 percent after debt payment, for the first five years. With that as the goal, the company can track its progress on a regular basis to determine whether it is on pace to get there or whether it is falling short of the mark.