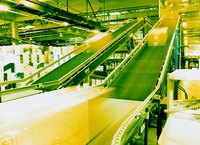 Traditional marketing logistics methods have had to adapt to an ever-changing world. Technological advancements have revolutionized all aspects of business, transforming the ways companies develop, distribute and market products. While making businesses more efficient, improved marketing logistics have also increased customer expectations, raising the stakes for everyone involved.
Communication
Successful businesses require excellent communication at all levels, with employees working together for a common goal. Technology such as cell phones, email and instant messaging has eliminated communication barriers, making employees available anywhere in the world at a moment's notice. Computer networks have also ensured each office department and step along the supply chain can communicate and stay informed, resulting in greater efficiency across the board.
Tracking
Radio frequency identification, or RFID, tags grant businesses unprecedented control of its products and supply chain. Each RFID chip contains stored information such as a product ID number, a manufacturing date and a shipping location that can be transmitted and then received via special electronic reading devices. Companies store the collected information in databases and use it to track products, improving delivery times and reducing the effort needed to locate misplaced items.
Warehousing
Enhanced product tracking, detailed digital information archives and extensive computer networking combine to improve product warehousing. Businesses can now know exactly how much inventory is on hand and can monitor its ebbs and flows, staying one step ahead of harmful shortages. Accurate data collection also enables more efficient use of warehouse space, ensuring the most profitable items are receiving the most attention and taking full advantage of marketplace supply and demand.
Marketing
A vital element of marketing logistics is communicating the business message and other vital product information to consumers. In the old days, this meant relying on direct mailings, print advertising or costly television ad campaigns. Technology, specifically social media, has bridged the business-consumer gap. Companies can now market directly to consumers through Facebook pages, Twitter feeds and even YouTube videos, reaching precise target markets and demographics for a fraction of the cost. Aside from serving as excellent marketing tools, web sites have also changed the way products are purchased, rendering brick-and-mortar storefronts unnecessary and providing access to a global marketplace.