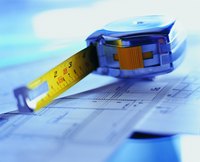 Banks require a real estate appraisal to be sure the home is valued at the price you agreed to pay, and an appraisal that comes in below your expected value can be a deal killer. Luckily, you might not be stuck with a low appraisal. Many appraisals can be appealed and, even if you can't change it, there are still ways to salvage your transaction.
Challenge the Appraisal
When you have a low appraisal, review it carefully. If the appraiser made an obvious error, like using the wrong measurement for your house or forgetting about a bedroom, she should adjust the appraisal once you make her aware of the issue. When the problem is more subjective, like her choice of comparable sales, you may need to have your real estate agent or lender go to bat for you. Your agent might be able to find comparable properties that challenge the appraiser's valuation. If you can get the appraisal corrected, it's the easiest way to get your home loan back on track.
Replace the Appraisal
When the appraiser won't budge, you may be able to go around her. Sometimes, your lender will let you order a second appraisal and either replace the first or average the two. If that's not an option, you can also start over again with a new lender. Bear in mind, though, that you run the risk that the new appraiser will do the same thing. In addition, if you're trying to get an FHA loan, the original appraisal will be entered in a database for the new appraiser to see, effectively preventing you from using this strategy.
Borrow or Negotiate
When you can't get around your appraisal, you may be able to either borrow more money to make up the shortfall or renegotiate the purchase price with the seller. A different lender may offer you a second mortgage or you might be able to get the seller to carry a small second loan to make the deal move forward. You can also negotiate with the seller to cut the purchase price -- after all, if the sale price doesn't appraise for you, it may not for another buyer either. To have more leverage with this strategy, always have your agent write an appraisal contingency into the purchase agreement. If none of those options work, a personal loan or loan against your 401(k) can also give you the money. In any of these instances, though, talk to your lender to ensure that he will allow you to take out more debt.
Put More Down
Finally, there's one sure-fire way to overcome a low appraisal. You can put more money down on your house. If you're earning less money in your savings account than you are paying on your mortgage, this can make sense from an investment perspective. You'll also get the benefit of a lower monthly mortgage payment since you're borrowing less money.