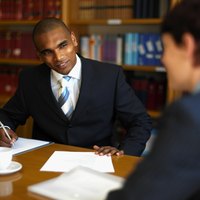 Businesses can be successful and achieve their goals only if their employees work well. Thus, they conduct human resource audits to ensure efficient management of their workforce. Large businesses often have an entire HR department to manage employees, but small-business owners sometimes take on the task themselves or hire a consultant. Regardless of business size, HR audits help companies determine if they are on tract to meet goals and if they're following legal requirements. Auditors adopt a systematic procedure when collecting and analyzing data and reporting their findings.
Scope
When auditors review human resources, they begin at the hiring stage. They make sure that everyone you hire is capable of doing the tasks you assign to them. Companies often conduct orientation programs to explain how the company works. They use these programs to communicate their expectations of employees. Auditors, therefore, might review the orientation programs. They examine your company's salary structure along with any other compensation and benefits you give your employees. They assess how your company conducts performance evaluations and inspect your company's job termination procedures.
Regulatory Compliance
Auditors check to make sure you provide a safe workplace with a supportive atmosphere and free from discrimination. Government agencies such as the U.S. Equal Employment Opportunity Commission and Occupational Safety and Health Administration regulate how businesses manage their employees and the work environment. Auditors make sure your company follows government regulations so you're not faced with fines from these agencies or lawsuits from employees. For example, according to the Fair Labor Standards Act, you must pay your employees overtime rates of at least one and a half times their regular rate if they work overtime.
Objectives
HR audits scrutinize how well your company makes use of its employees' talents and capabilities. They help you tap into your employees full potential by making recommendations to your managers about how to better direct the staff. They also zero in on problem areas and come up with solutions for tackling these issues. For example, their analysis of employee salaries might pinpoint ways your company can save on overpayments and avoid over or under compensating your employees. HR audits also might help you find ways to make your hiring procedures more cost efficient. For example, companies can cut employee costs by outsourcing some jobs, and you can rely on auditors to help you make decisions in that area.
Advantages
When you conduct HR audits, you instill a sense of confidence in your employees that their interests are being looked after. Auditors interview employees while collecting information, and this gives your employees an opportunity to voice their concerns and issues. It also can build a better understanding between managers and employees because it opens communication lines, which can lead to better productivity. Interested parties such as lenders and investors, sometimes review HR audit reports. A favorable audit might result in more finances that allow you to expand your operations.