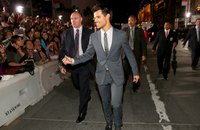 Basketball player Kobe Bryant has admitted, "My suit game changed completely after doing my GQ shoot. It's really a golden moment when your suit fits nice and slim, and that includes your shirt and tie and even your shoes. It all needs to slim down -- that realization was eye opening for me." The tapered suit is making its mark in fashion history for both men and women, and to wear it successfully you need complementary components.
Suits and Body Types
There are three main trouser styles for a men's suit -- wide, straight and tapered -- and the overall suit style typically matches that style. The wide-leg trouser is most suitable to a man with a thicker lower body. The straight-leg trouser is standard, most conventional and looks good on most body types. The tapered-style trouser is the slimmest cut and the most stylish of all suit styles. The tapered -- or slim-cut suit -- works with many body types as long as you keep all the components slender and don't try to go too small.
Tapered Suit Fit
The tapered suit is meant to skim the body but not squeeze it. A true taper is widest at the waist and gradually narrows down the length of the leg. The ankle opening is the smallest measurement on this style of suit. Men's taper-fit suit pants feature a lower rise than traditional suit pants, and have a slightly shorter length. The corresponding jacket is also tapered at the waist and has tapered sleeves. Tapered suits have a narrower lapel. The slenderized version of the classic suit, a tapered suit style has smaller and softer shoulder pads, and two buttons rather than three. Fashionable women's tapered suit styles also feature a tapered waist, slim and tapered legs, and sometimes have a more dramatic taper resulting in a tight-ankle fit.
Tapered Suit Style
The neatly tailored look of the tapered suit style gives the appearance of a modern, trimmed-down silhouette. This body-hugging style of suit is sleeker and sexier than the traditional straight-leg, boxier shape of the suit. The jacket style of the tapered suit is so tailor-fit that women create a style statement by wearing a tapered suit and a barely there top, or they forgo a blouse under it altogether, so the suit wears more like a fitted pant and blouse set. The tapered suit style for men is meant to look modern and dapper with its neat lines.

The Fitted Shirt
Because of the cut of the tapered suit, it looks best with a fitted or slim-cut button-down. A slim-cut shirt fits closely along the torso, is made with darts to tuck-in neatly at the waist and has slender sleeves to fit nicely under the tapered suit. The slim-fit dress shirt is specifically marked as such, and available in both men's and women's styles. Be sure to get the proper sleeve fit -- not too long or too short -- and be sure the cuffs reach just past your wrists.