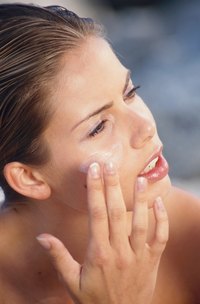 Companies use vitamin B3 in anti-aging products to help skin look healthy and young, though more scientific research on its effectiveness are needed. Niacin and niacinamide are both forms of this vitamin B complex nutrient that can purportedly make skin look suppler. Before buying topical vitamin B3, consider the potential benefits and risks related to your individual health.
Vitamin B3 Defined
Vitamin B3 is an essential nutrient found in eggs, grains, milk products, meats and leafy green vegetables and helps the body metabolize fats and sugars. Collagen, the main component of connective tissue, is lost with age, which is one cause of wrinkles. Cosmetic companies use vitamin B3 in products in the hopes it will encourage collagen production and reduce the appearance of wrinkles; however, no product is proven to increase collagen after it's lost with aging.
Types of Products
Niacinamide, a form of vitamin B3, may be found in various types of anti-aging products. Because niacinamide B3 is a water-soluble nutrient, it is used in moisturizing products. One of the main functions of moisturizers is to help the skin hold in water molecules; hydrated skin of course looks less wrinkled than shriveled, dried out skin.
Potential Risks
Although manufacturers might promise results in terms of skin aging, there is no guarantee associated with topical B3 for wrinkles. Because cosmetics are not considered drugs by the U.S. Food and Drug Administration (FDA), the agency doesn't regulate them in the same way. Aside from claiming insufficient evidence for vitamin B3 effectiveness for wrinkles, Medline Plus also says allergy-prone individuals can suffer from adverse reactions for such products. Topical niacin may encourage histamine production, which can worsen allergy symptoms such as eczema.
Other Anti-Aging Tips
Like other over-the-counter anti-aging cosmetics, there is no proof that topical vitamin B3 effectively treats wrinkles. If you experience any adverse side effects, stop using the product and call a doctor if symptoms persist. The Mayo Clinic website offers other anti-aging skin tips to help reduce the appearance of wrinkles. These include wearing sunscreen to help prevent further wrinkles, refraining from smoking and moisturizing daily. A balanced diet can also help keep skin looking youthful; in fact, eating foods containing vitamin B3 can possibly benefit your skin from the inside out.