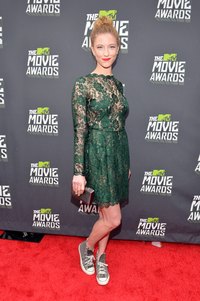 When it comes to cute sneakers that can be worn with a variety of different pieces from casual to dressy, Converse isn't the only name in the game. If you're looking to branch out, there are other brands out there that are similar but have their own flair. Slip into a new pair of shoes that will be comfortable and fashionable to boot.
Vans
Vans and Converse look a lot alike. Their silhouettes are very similar, as are their laces and rubber soles. Known as the shoes of skater girls and guys, Vans are seen as trendy and cool by fashionistas and celebs alike, and they come in so many variations that anyone can find a look that works for them. They come in high-top and low-top styles, as well as in every color under the sun. You can also snag the shoes in cool prints, if you really want to stand out.
Keds
Keds come in different styles. The lace-up looks are more similar to Converse, while the slip-ons are lace-free and look like a hybrid between a tennis shoe and ballet flat. Just like Vans, Keds come in a variety of colors and prints, so you can find a shoe to go with pretty much anything in your closet.
Other Similarities
Just like Converse, Keds and Vans both do designer and celebrity collaborations. Converse is known for collaborating with labels like Comme des Garcons and John Varvatos, using these brands to create specialty shoe designs. Keds has done similar collaborations with retail brand Madewell, pumping out shoes in polka dots, floral and eyelet designs, and has also teamed up with country singer Taylor Swift to create a line of shoes. Vans, which is a bit edgier, has collaborated with lines like Kenzo and Rodarte, which created a limited-edition jewel-encrusted shoe.
Wearing Them
Also, like Converse, Keds and Vans can be worn in tons of different ways. They make dresses instantly cool, and are the perfect topper for shorts and jeans. They can even dress down dress pants in a totally edgy way. Not only do they look stylish, but they're also an ideal way to make your outfit work while keeping it comfy.