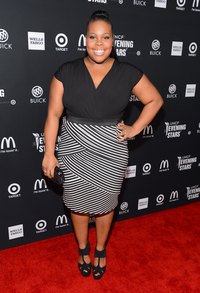 Plus-sized woman often encounter a shortage of fashionable clothing when shopping, making things like dressing for work a bit more complicated. Due to a curvy body type, not all items appropriate for straight-sized women are appropriate for the plus-sized. From jeans and a blouse to breezy dresses and skirts, dressing casually yet fashionably for the office can be easy once a few basic style rules are implemented. Plus-sized women can look incredibly chic and sophisticated when dressed in clothing that's well-fitted and stylish.
Skirts
It's important to choose the appropriate size and length when shopping for skirts for the office. Skirts fit for the office must not be too tight or too short and should hit just slightly above or below the knee. Opt for mostly basic colors to get the most out of your pieces, but also choose fun patterns or a few bright shades to add depth to your wardrobe. While skirts in basic colors might seem drab, they can easily be jazzed up with accessories and bright pieces like bold blazers or blouses. An A-line skirt in a bright color like cobalt, paired with a solid-color tank top or T-shirt is an easy and put-together look for the casual office. Depending on how much walking you are subject to, flats and heels both pair well with this skirt and top combination.
Blazers
Blazers are a great way to keep covered while still maintaining a fashionable sense of professional dress. Blazers have never been so trendy, so stock up on fitted blazers in different colors, patterns and textures. You will appear professional and appropriate for the office when pairing a solid-colored tee and blazer. For the casual office, jeans are the ideal pairing for a fun and fashionable blazer. A crisp, white blazer worn with dark wash jeans and a high-heeled pump is a stylish and chic office outfit. Whether worn with a skirt or trousers, a sophisticated blazer is a great way for plus-sized women to make a fashion statement in the office.
Patterned Blouses
Patterned blouses in a variety of colors and fabrics are staples that plus-sized and petite women alike will want to stock up on for the office. Versatile and stylish, these blouses will pair with many different bottoms and look professional and totally office appropriate. If your office is laid-back, opt for fun patterns and bright colors but if your office lies on the conservative side, basic colors like black, white, navy and grey will suffice. Pair a printed, button-up blouse with jeans and flats for a comfortable and casual work outfit.
Sheath Dresses
The ultimate workwear dress, the shift, skims curves and can be worn in a variety of ways. Wear a necklace to fake the illusion of an embellished neckline. You may also add a belt for a quick transformation. Patterned tights will also be appropriate for the office with a shift dress. There are many ways to spruce up a basic shift dress, so invest in a few different colors, ranging from neutrals to brights, to add to your workwear collection. Flats work just as well as heels do with the shift dress, so opt for a cute pair that will keep you comfy all day long.