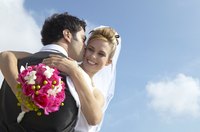 Brides looking to add "something blue" to their wedding may opt for a color scheme that includes navy blue. Navy blue is a classy and elegant hue that can be combined with almost any color and used in any wedding, regardless of the time or season. Navy is also a versatile tone for a bridesmaid's dress, and several matching shoe colors can contribute to the right look for your wedding.
More Navy
If your bridesmaids' gowns are floor length, the tone-on-tone look of navy shoes can create a seamless appearance that keeps the focus on the dress. The shoes must match the dress closely; to achieve this look you can have silk shoes dyed at a bridal store or specialty shoe store. Since the navy shoes will not compete with the dress, your bridesmaids can opt for a smaller heel that is easier to dance and walk in.
Nearly Nude
For bridesmaid dresses that are tea length or shorter, a nude heel will elongate and emphasize legs. The keys to success when pairing nude shoes with a navy dress: Shoes should match the wearer's skin tone, heels should be at least 3 inches high and the shoes should be a simple design without much embellishment. You may want your bridesmaids to select their shoes individually so they can find the nude shoe that matches their skin tone and style best.
Pop of Color
Selecting bridesmaids' shoes in a contrasting color can infuse an energetic look. Consider a wedding color scheme that pairs navy with a brighter color such as fuchsia, lime or yellow. Pastel shoes will also match nicely with navy blue for a more subtle look. Instead of pumps, opt for a strappy sandal or a shoe with a peep toe so the color is not overwhelming.
Shimmering Metallics
Silver strappy sandals with high heels give your bridesmaids a timeless and elegant look. Silver will work for a wedding at any time of the year, but if your wedding is in the fall or summer, also consider gold or bronze shoes as options. Look for shoes with a simple design -- skip shoes with bows or busy design elements.