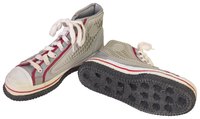 Originally worn for ankle support by professional basketball players, high-top shoes have transitioned from standard athletic footwear to an enduring cultural icon. Nowadays, high-top shoes still roam pro basketball courts, but they're also worn by all ages for everyday activities.
History
High-tops rose to fame in the early 1920s, when basketball players dunked hoops in Converse's Chuck Taylor sneakers. The classic canvas shoe hit above the ankle to support the joint during fancy moves on the court. During the next half-century, other sports apparel brands created versions of the high-top shoe. Basketball all-star celebrities such as Larry Bird, Magic Johnson and Michael Jordan endorsed their own custom pairs of high-top sneakers, making them a household name.
Sports
Athletes have long worn high-top shoes to help protect their ankles while maintaining high performance in a game. Some sports medicine studies suggest that high-tops may help prevent ankle sprains. In some studies, the taller height of the shoe, similar to a brace, appeared to stabilize the ankle and keep it from inverting or rolling. Others say there is no strong link between the shoe height and injury prevention. More research is needed to develop a scientific consensus, but players still commonly wear the iconic shoes.
Culture
High-tops moved away from sports and into mainstream culture when popular movie and music celebrities wore them in films and concerts. John Travolta wore high-top Converses in "Grease;" Sylvester Stallone famously wore a pair during his famous sprint up an art museum's steps in "Rocky;" and grunge rocker Kurt Cobain wore high-tops during performances. A wave of youths and subcultures adopted high-top Chuck Taylors as part of their rebellious self-expression and identity.
Fashion
The iconic shoes have made a comeback as retro sneakers. Luxury fashion designers continually reinvent the sporty look with high-end, signature pairs. Luxe materials, such as suede or exotic skins, and quality craftsmanship, such as a lightweight construction, are modern spins on the shoe. In 2013, designers sent high-top kicks in futuristic shapes and bright colors down the runway for fall collections. Limited-release high-tops have also become collectible items of artwork.