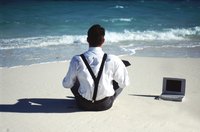 Suspenders, or braces as they're known in Britain, have been around since the 1820s when British designer Albert Thurston manufactured the first modern day suspenders that the company still sells today. The first suspenders were an H-back design, forming an uppercase H in the back, although the X-back and the Y-back are most commonly worn today. Functional and fashionable, suspenders can be worn for a variety of modern occasions and activities.
Office
Take a cue from the suspender-loving 1980s and wear suspenders to the office. Bankers, lawyers, politicians and other office workers can wear a wide, button-on version with a dress shirt and tie for a commanding and classic business look. Business braces come in different widths and lengths and in a range of materials, such as silk, leather and oxford cloth. Suspenders come in many colors and patterns ranging from solids and stripes to plaid, polka dot and argyle that can be coordinated to match a tie.
Formal Occasions
Suspenders are traditionally worn with men's formalwear in place of a belt, including black tie, tuxedos, tailcoats or mourning clothes. Formal attire may be worn to events such as weddings, fancy dinners or formal dances. Dressy suspenders for formalwear might be chosen in white, to match the traditional white shirt, or in black or gray to match the coat and trousers. Although formal clip-on suspenders exist, formal suspenders are normally buttoned onto the trousers, since the more casual clip-on variety could damage the fabric of dress pants.
Casual
Suspenders have been worn casually since the British punk rock set adopted the look with jeans in the 1960s. Women began sporting braces with baggy trousers in the 1970s when the film "Annie Hall" sparked the menswear trend. Today, men can wear thin clip-ons in solid colors paired with jeans and a T-shirt or casual top and combat boots for an urban, modern punk look that could go anywhere from an art gallery opening to a bowling alley. Wear a wider version with a print or suspenders with buttons to sport a retro, preppy vibe. Pair with corduroys or tweed trousers and a button-up shirt and tie or pullover sweater for a casual lunch date or when visiting your local pub or speakeasy.
Work
Suspenders are also functional and practical for workers in several fields. Suspenders offer extra support for workers whose pants need to hold multiple tools, including construction workers. Truckers may choose to wear suspenders instead of a belt that might dig into the back during long hauls. Suspenders are available with added shoulder padding, and versions for firefighters are made with extra support to hold up heavy firefighting pants. Work-type suspenders may also be worn for activities such as fishing and hunting.