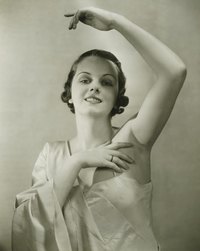 When it comes to American women's fashion, shaving armpit hair is a relatively new custom. In fact, it's barely a century old. In certain times and communities, going unshaven may be seen as an acceptable fashion choice, but in general the trend over time has been toward less body hair rather than more.
Flapper Fashion
The Straight Dope dates the beginning of the hairless armpit trend as 1915, the year an article in "Harper's Bazaar" announced that due to the trending fashion of sleeveless summer dresses, "objectionable hair" must be removed. That same year, the Gillette Milady Decollete razor made its debut -- the first razor marketed directly to women.
Trickle Down Fashion
"Harper's Bazaar" was a magazine intended for the upper echelon of society; it took quite some time for the hairless armpit trend to reach the middle class and beyond. "Ladies Home Journal" did not feature a discussion of removing underarm hair in its pages until 1934, although the Sears Roebuck catalog started selling razors for the purpose in 1922. Sheer fabrics and sleeveless dresses, especially during the flapper years of the '20s, helped drive the trend.
Trends Today
Nowadays, women may shave their armpits as a matter of course. Some exceptions to this rule exist, of course. The hippies of the late 1960s are just one example; the feminists of the 1970s, rejecting stringent beauty culture norms, are another. Movie star Julia Roberts caused a minor sensation at the 1999 premiere of her movie "Notting Hill" by arriving on the red carpet with unshaven pits. Other celebrities occasionally spotted with furry pits include Drew Barrymore, Hilary Swank, Amanda Palmer and Beyonce. And, of course, these are only the notables we know about. There's no way to tell how a woman is groomed if she chooses not to wear pit-baring fashions, after all.
Hair Removal Methods
The usual route to a hairless armpit is to shave it with a razor. Some women prefer to use a depilatory cream, while others use wax. Each has its advantages and drawbacks. Underarm hair can also be removed permanently with laser treatments or electrolysis, but these methods are generally more expensive than temporary removal methods.