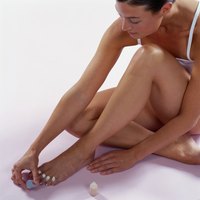 Humans have been coloring their finger and toe nails for centuries. Everything from lead, eggshells and beeswax to henna stains were used to adorn and draw attention to one's hands and feet. Today, the nail polish we wear is similar in its makeup to the kinds of chemicals used to paint cars. That said, polishing your nails can be as easy or as complex a project as you choose; it all comes down to the tools you use.
Base Coat
Base coats are somewhat sticky, often clear paint-like liquids that can be brushed onto your nails before you apply nail polish. The benefits of using a base coat include the added ease with which your chosen nail color will adhere to your nails, and, in some cases, added time before your nail polish eventually begins to crack or flake away. A base coat will prevent yellowing of nails from wearing dark nail polishes. Many base coats also include strengtheners for nails.
Ridge Filler
Much like a base coat, a ridge filler can be applied to your nails before you paint on your nail color. This kind of product is meant to be used instead of a base coat, when one's natural nails have small divots or ridges that cause them to appear worn or rugged. Ridge fillers are somewhat thicker than base coats and take longer to dry once applied. However, nails will seem smoother, as any nicks or cracks will have been filled.
Nail Polish
Nail polish is sometimes referred to as nail lacquer, enamel, finish, vaneer or varnish. The polish is a kind of paint used to color your nails. It can come in the form of a gel or a liquid, and much like base coats and ridge fillers, it is applied with a small brush, usually attached to the polish bottle's lid. After the polish is applied, it dries and hardens and, depending on its ingredients, will stay in place for up to two weeks.
Top Coat
A top coat, for all intents and purposes, is a clear nail polish. Some companies will add ingredients to the chemical makeup of the polishes they produce so that they will harden more thoroughly or provide more gloss. The companies may also add quick-drying agents as well. Topcoats, as one might expect, are painted on top of the nail polish to enhance the color's shine and longevity.
Nail Polish Remover
Nail polish removers can be used either before you start the process of polishing your nails or when you're ready to remove what polish remains. When applied to a cotton ball, nail polish remover can "de-squeak" or remove oils on and around the nail, providing a clean palette on which to apply polish products.
Many nail polish removers contain acetone as an active ingredient. However, some manufacturers use other kinds of organic solvents; acetone is believed by some to weaken natural nails, especially at their tips.