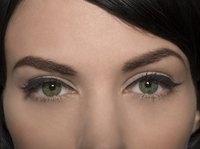 If you're tired of filling in sparse brows with powder or drawing on your eyebrows with a pencil every day, there are other options that can give you the illusion of thick, full brows. Whether you're seeking a temporary fix or looking for longer-lasting results, two such techniques can help give you more desirable arches.
Eyebrow Airbrushing Facts
Airbrushing uses liquid eyebrow color in a shade that matches your natural brows. The liquid is put into a compressor and sprayed with a fine mist onto the face. Stencils are used to achieve the desired eyebrow shape. This procedure allows you to spray on full brows or fill in sparse areas as needed. Airbrushing kits for home use are available and typically include the compressor, stencils and eyebrow pigments, which often can double as eye shadows.
Airbrushing Pros and Cons
Opt for airbrushing your brows if you'd prefer to do it yourself. Airbrushing is efficient, with application taking only a few minutes. It's easy to correct any mistakes because the temporary colors wash off with soap and water. Airbrush makeup may last longer than traditional makeup, with some brands promising up to 24 hours of wear without the color smearing, running or fading. The spray goes on with a fine mist in thin layers, providing even coverage and allowing you to layer color for a more natural look. Brows can be customized by using different parts of different stencils. To retain your new look, airbrushing must be done daily, and at-home kits can cost up to several hundred dollars. For a one-time application or special occasions, consider having the procedure performed in a salon.
Eyebrow Embroidery Facts
Eyebrow embroidery is a semipermanent procedure using hairlike pigments that are drawn onto the skin by a qualified salon technician. Also known as 3-D eyebrow embroidery or eyebrow hairline stroke, the technique involves using hairlike strokes with pigment matched to your brow color to create a natural appearance that can last up to two years. The procedure begins with a technician applying an anesthetic cream, then the desired brows are traced. The technician uses a very thin, small blade to cut small pieces off the top layer of skin and apply color in its place.
Embroidery Pros and Cons
Consider embroidery if you have very thin, overplucked brows or alopecia and are seeking a longer-lasting option than other techniques. This method can fill in thin spots on brows, create thick brows or darken them. There may be some redness and minor swelling for a few hours or up to several days following the procedure. Be prepared for your brow color to fade by 50 to 70 percent in the first several weeks, requiring follow-up sessions. Eyebrow embroidery may require occasional touch-ups to maintain results. A common problem with embroidery is that brows may not correctly align with brow muscles when flexed. To avoid this, flex those muscles to check for the correct positioning after the technician has drawn in the shape before proceeding. To ensure safety, opt for a technician certified by a reputable company and ask about instrument sterilization. Treatments range from $300 to $600.