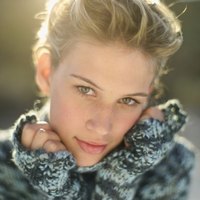 A large bust can either be one of your best assets or a fashion roadblock. With an assortment of tops that hang, bunch or stretch in unflattering ways on busty women, understanding how styles can flatter your shape will help you look and feel great every day. When it comes to choosing sweaters that flatter a busty body type, pay close attention to both the sweater's style and material.
Select the Right Neckline
If you are busty, selecting a sweater with a flattering neckline is of the utmost importance to looking your best. V-necks, scoop necks and wrap sweaters all look good on women with large busts. These necklines visually break up the space between your collar bone and your waist line, preventing you from looking barrel-chested or heavy. Avoid crew neck sweaters, which can cause a large chest to look disproportionate.

Highlight Your Waist
One common mistake busty women make is attempting to hide under baggy, loose-fitting sweaters. Selecting a boxy sweater shape is a mistake because it camouflages your natural waistline. Busty women should choose sweaters that fit close to the body and create a flattering hourglass effect. Wrap sweaters or those with embellishments below the bust line are also excellent options for busty women.
Think Stretch
Big busted women should select sweaters made with thin, stretchy material. Good options include medium-weight jersey knits and medium-weight cable knits made out of cotton or wool blended with nylon or polyester. Choose fabric types that will hug your body rather than hang off it. Sweaters that hang will create the illusion that your entire torso is the size of the largest part. Stretchy materials will wear close to your curves and accentuate your waist line. Chunky knits and heavy weaves should be avoided because they can add heft to a busty woman's torso.
Experiment
Don't be afraid to try on sweaters in unusual shapes and bright colors. Dressing a large bust is not always intuitive. You may think there is no way you could wear a neon pink scoop neck or a plunging V-neck without drawing undue attention to your chest, but either could easily work on a busty woman. Experiment until you find the styles and shapes that you feel most comfortable.