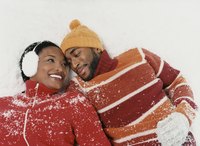 Sweaters made of cotton, wool and cashmere require different methods of washing and drying. Laying out wool and cashmere sweaters to dry often causes the moisture to wick back into the material, creating mildew growth and taking forever to actually dry out. Washing methods inform the drying process -- and in some cases whether you dry it at all. Alternatives to laying sweaters out exist and expedite the process while precluding mold.
Salad Spinner
Washing machines use a spin cycle to remove excess water prior to throwing a garment into the dryer. Since you can't do that with most sweaters without shrinkage, one alternative is to extract the moisture with a salad spinner after hand-washing. When used normally, salad spinners remove the extra water retained on lettuce leaves after you wash them, preventing them from getting soft and soggy. The same technique works with sweaters as well, getting rid of most of the water prior to laying the sweater on a dry towel or rack to get rid of that extra small percentage.
Dry Cleaning
Dry cleaning, as the name implies, foregoes the use of water to remove stains. As a result, there is no need for the garment to lay flat since there's nothing to dry. Dry cleaning works best with wool and cashmere since machine washing will likely cause some degree of damage and lead to a misshapen or shrunken sweater. Dry cleaning is nearly essential in removing tougher stains.
Drying Cotton Sweaters
Cotton is far more resilient in wash and dry cycles than wool or cashmere, so it can often be tossed in the dryer on a low or medium heat setting after machine or hand washing. Although the weave of the cotton sweater may be thicker than your long-sleeve tees, the material remains the same, so the care is similar. As with anything cotton, however, avoid using the dryer on high to prevent accidental shrinkage.
Steam Cleaning
Steam from an iron is good for removing wrinkles and freshening up a sweater that's been in a drawer for a while. By simply placing a steam iron on high and forcing the steam out through the iron's steam release button, the sweater's fabric relaxes while the hot water permeates the fabric. This does not involve any direct contact with the iron's plate, nor does the process require any extensive drying process afterward. Since the sweater isn't excessively wet, leave it on the ironing board overnight to dry, and it'll be ready by morning.
What Not to Do
Hanging sweaters -- especially wool and cashmere -- is a big no-no. In addition to leaving shoulder dimples or odd bumps between the shoulders, hanging woolen sweaters permanently elongates and damages the fabric, changing the shape and altering the look. If you attempt hanging it upside down when wet, be aware that the sweater could end up significantly longer.