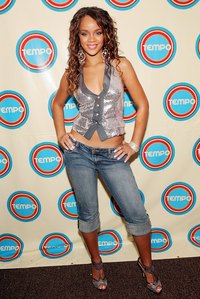 Knee-length jeans are called Bermuda shorts, pedal pushers or capris, depending on the exact length. Bermuda shorts typically hit about an inch above the knee, while pedal pushers and capri pants cover the knee cap. These styles serve as an alternative to short shorts and long khakis on a hot summer day. Both types of jeans modestly cover your thighs but air out your calves.
Bermuda Shorts
Bermuda jean shorts land just above the knee and oftentimes sport a slouchier fit. Some have extra details, such as a faded light wash, destroyed bleach details, rips and cuffed hems. They are worn on very casual occasions, as most professional settings don't allow shorts in the office. Wear a pair of Bermuda shorts on warm days to hide flaws around your thighs. For office-ready Bermuda shorts, opt for a dressier material in neutral colors, such as beige, and pair with a linen blazer.
Pedal Pushers
Pedal pushers are slightly longer and end right below the knee cap. In the 1950s, American celebrities like Audrey Hepburn popularized cropped pants that fell somewhere between the knees and ankles. Typically made out of cotton, women often wore them to avoid getting their pants caught in bicycle gears. Modern jean pedal pushers typically have a tighter fit than casual Bermuda shorts.
Capris and Clamdiggers
Pants that come down a few inches past the knee are called capris and clamdiggers. The two terms are often used interchangeably with pedal pushers. Capri pants typically hit the middle of your calf and are often made from a stretchy material. They have a form-fitted cut and a smooth surface, without large pockets or other embellishments. Clamdiggers can be longer, skimming the leg to just above the ankle. They are shaped like khakis and tend to be a bit more voluminous. Workers originally wore similar pants in the salt marshes of France, and they often cuffed or rolled up the bottom for better mobility.
When to Wear
As a general rule, reserve knee-length jeans for casual events, unless they're made of a tailored material. On hot days, wear Bermuda jean shorts with a T-shirt or a blouse. If your workplace allows a more casual dress code, stay cool and office-appropriate with a pair of minimalistic pedal pushers, capris or clamdiggers. The longer versions offer an alternative to a dress or skirt in the office. Wear billowy tops with fitted pedal pushers and capris, and balance loose clamdiggers with a tighter top.