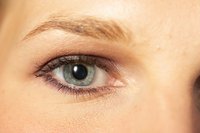 If your brows are sparse, over plucked or thinning -- or you just want all-day wearable brows -- you'll need the right products to mimic the look of perfectly groomed hair. To keep your brows looking great from day to night, there are essential brow enhancers that add color, fill out your hairs and define your brows all day long.
Best Eyebrow Makeup for Your Hair Color
If you are a brunette, use a medium-brown brow pencil or marker. Black-haired beauties look best with a medium- or dark-brown eye marker or pencil, but never black. Tame your blonde brows with a taupe or light-brown eyebrow product. Use a reddish-brown or sable pencil or marker if you have red hair.
Eyebrow Pencil, Eyebrow Markers and Wax
Highly pigmented eyebrow pencils and eyebrow markers help maintain the shape of your brows. You can use eyebrow wax to fill in, enhance or shape the brow after applying a pencil, eye shadow or eyebrow marker. After combing and shaping brows, outline your brows with a creamy eyebrow pencil or marker. Apply the product to your hair using short, feathery strokes. Using a flat eye shadow brush, smooth a clear or tinted eyebrow wax over the hair to set.
Eyebrow pencils and eyebrow markers alone last for a maximum of eight to 10 hours, unless you are prone to rubbing your eyes frequently and remove your eye makeup accidentally. To keep the eyebrow pencil and markers in place for eight hours or more -- or until you remove them with soap and water at the end of the evening -- use eyebrow wax to set.
Eyebrow Gel
After combing your brow hairs, use a clear or tinted eyebrow gel to keep your hairs in place. An eyebrow gel comes in a plastic tube with a mascara wand to apply the product smoothly to your hairs. Gels are usually transparent, dry quickly and are waterproof. You can use the product alone for eight to 10 hours of wear, or after you apply an eyebrow pencil powder.
After outlining your brows with a pencil, brush the eyebrow gel toward the arch to set your brow hairs for longtime wear. When used with an eyebrow pencil powder, the eyebrow gel will set your eyebrow hairs for 12 to 18 hours of wear.
Eyebrow Powder
If your brows are thinning, a loose, pressed or cake brow powder product provides more coverage than a brow pencil. When applied with a brush, eyebrow powder adds thickness to thin brows for at least eight hours of wear. Sweep the powder on with a flat, firm angled brush. Brush the powder through with a clean mascara spooly brush to blend the color. If you have oily skin or want eight to 12 hours of coverage or more, set the powder with eyebrow gel or eyebrow wax for a long-wearing look.
Anti-Aging Brow Tips
Lush and thick brows are a sign of youth; so the right shape can take years off your face. If your brows are thin, use an eyebrow pencil one shade lighter than your hairs to outline your brows. Using an eyebrow brush, fill in the new brow shape with an eye shadow or brow powder to set your new brow shape. If a few brow hairs are turning gray you don't have to dye them. Use an eyebrow powder or tinted eyebrow gel to cover them completely and keep the hairs in place.