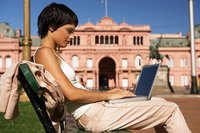 Every now and then, there is a staple in your closet that could use an idea or two to look fresh again. Take, for instance, the camisole. It's fine on its own for a hot summer day; but to make this style staple truly versatile, you'll need a covering or two to jazz it up a bit. Luckily, when paired with a nice jacket or sweater, the basic cami can be upgraded for formal occasions and cross over from season to season.
The Button-Down Shirt
Use a button-down shirt unbuttoned as a casual jacket for your camisole. To avoid looking sloppy, tuck your cami into your pants, skirt or shorts. Just remember that whether you're wearing your boyfriend's button-down or one of your own, it's important that the top is well pressed. Feel free to be a little adventurous and choose a button-down with a pattern or embroidery as an alternative to the basic white or blue. Then simply roll the sleeves up for a chic spring style.

The Sheer Top
Wear your cami under a sheer blouse, and you'll gain the perfect amount of coverage while experimenting with the sheer trend. Choose a cami that either matches your skin tone or is the same color as your blouse for a a more demure look. For the girl who dares, a brightly colored cami worn under a sheer black top or blouse makes for a bold look. Pair this look with dark skinny jeans for the perfect amount of edge.

The Blazer
Make a camisole appropriate for work by wearing it under a tailored blazer. When the weather is warm, a button-down shirt isn't the only appropriate work shirt. Just be careful to avoid a cami with lingerie details like lace, silk or satin when in a professional environment. Instead, stick with basic black, white or neutral hues and cotton or lycra fabrics when heading into the office. An intimate date or night out on the town are the occasions when a lace camisole and blazer look both appropriate and chic.

The Sleevless Vest
Upgrade your camisole by pairing it with a vest. Seek out a tailored menswear-inspired version that when buttoned up draws you in at the waist and closely outlines your feminine curves. Or, try a leather or denim vest to give a cool rocker vibe to your basic camisole. For a bohemian appeal, pair a cami with a long fur vest. Whichever you choose, let your vest do the talking and pair it with a basic black, white or ivory camisole.