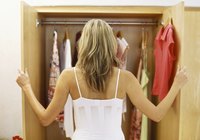 The closet is designated solely to store and select clothes and for many, where each day begins. Whether it's large or small, his or hers, utilizing this space to its fullest potential is key to preserve garments and ensure they're displayed in a way that is visually cohesive, organized and functional. Simple guidelines for organization can help make the most of any closet and create a pleasing dressing environment.
Hung Up
Before selecting garments suitable for hanging, invest in some quality hangers that match for visual cohesion and uniformity. When choosing what items should be hung, consider fabric, occasion and price point. Dress shirts often wrinkle easily and benefit from being hung. Quality materials like silks and hand-made pieces should be on a hanger. Also consider the care label. If a garment requires dry cleaning, don't fold it and allow it to become stuffy and stale. Jackets and dresses should also be hung for accessibility.

Fold
Most closets provide areas equal in amounts for hung and folded clothes. This is essentially a road map for how to utilize the space. Sweaters, knits, work-out gear, lingerie and casual garments like T-shirts and tank tops all belong folded in drawers. If a space has shelves instead of drawers, consider utilizing baskets to separate items. Denim is also best suited to folding. Categorize each pair for quick selection: skinny in one pile, boot-cut in another, and so on.

Store It
Taking up valuable closet space with seasonal items is senseless. Those thick, puffer jackets, heavy sweaters and winter scarves should be placed into storage bins and kept elsewhere during warm months. Guest room closets, hall cabinets, attic space or wherever these items will be conveniently out of the way for a season or two, is crucial for staying organized. In the fall, tank tops, shorts and breezy summer dresses can switch places with heavier garments to optimize the closet's function.
Purging and Donation
Frequent re-organization and editing is essential to keep a closet trimmed down. There's no need to hang or fold garments that haven't been worn in the past six months or more. Every few months, use a critical eye to look at your closet and determine what items belong there. If something isn't a desired style, has lost its luster, or is ill-fitting, make piles for garbage, donation, selling or giving away. Then re-situate existing garments for a clean, organized space.