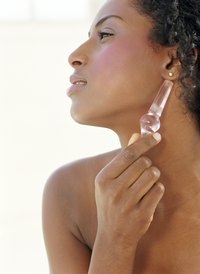 Choose your perfume wisely, as those carefully concocted oils and spices might say more about your personality than you may originally expect. A new study in the Psychological Science has shown that particular smells correlate with personality types. Science has finally proven what perfumers have known for some time now -- that you can tell a woman by her fragrance.
The Strong Individual
Let your individuality shine through with a perfume that contains notes of leather, incense, sandalwood and amber. These scents are considered 'spicy' for their masculine and feminine nature and are used frequently in men's cologne. A woman who wears a spicy perfume suggests that she has a bold personality. She isn't afraid to play with the boys; and if her own fragrance isn't on hand, she just might borrow her boyfriend's.

The Social Butterfly
Spritz on a fruity scent to highlight your colorful and fun personality. You'll warm a man's heart with this scent, as the notes are generally sweet and edible -- apple, passion fruit and black cherry. Similar to the fruity lip glosses of your high school days, a sweet fruity scent tells those around that you're sociable and love to have fun.
The Sensual Female
Indulge in an oriental fragrance with notes of rose, patchouli, tonka bean and musk if you're a woman who isn't afraid to show her sensuality. These scents are noticeable, wild and exude sexuality. Spritz on an oriental spiced perfume for a date when you want to be noticed and desired.

The Natural
Radiate elegance in a perfume with notes of cucumber, basil and green tea. These are considered 'green' scents. Aside from the fact that they're green in hue, their name also represents a crisp, fresh scent. Women who wear these perfumes are typically no-nonsense, even sporty sorts who love the outdoors and the casualness that goes along with it.

The Day Dreamer
Wear an aquatic fragrance if you're a woman with a dreamer mentality. When worn, notes of marine and salt exude a laid-back, free-spirited personality; but that doesn't mean she doesn't love a good time. The creative type who loses herself in a good book and enjoys a calming walk along the shore wears these scents as well.
The Girl's Girl
Be boldly feminine in a floral scent. One thing that can be said of a female who spritzes on this scent is that embraces being a woman. Floral scents -- jasmine, lily of the valley and gardenia -- aren't necessarily favorites of the opposite sex. Rather, they're scents that please the female olfactories. A woman who wears this scent isn't afraid of her feminine nature; rather she's proud of all her femininity represents.