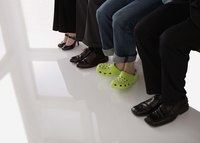 The definition of a proper work shoe varies based on the work environment, dress code and the job an individual holds. For example, a banker might wear a cap-toe lace-up shoe with a high degree of polish, which would be inappropriate for a nurse or anyone who spends significant time on their feet. Defining what is proper, therefore, is a hybrid of personal style and professional requirements.
Safety
Nurses, fast food workers, warehouse personnel and other individuals on their feet for hours -- especially in potentially slippery environments -- need shoes that ensure comfort and safety. It's a good idea to wear rubber or silicone-soled shoes with substantial arch support, maintaining traction and reducing leg, back and ankle pain over time. Construction and street crews should consider steel toes, along with resilient soles that hold up to a variety of conditions and chemicals. Leather-soled shoes and high heels would not be worn in these cases, both as a matter of professionalism and practicality.
Polish
Professionals who wear suits and ties should consider their specific industry. For example, tennis shoes with a tailored suit might work in a technology or creative environment, but not in a law firm or financial setting. The shoes should coordinate with the clothing -- if the rest of the ensemble is professional or semi-formal, the shoes should naturally follow. In these cases, a professional, polished appearance usually trumps comfort concerns.
Uniformity
In the military and police processions, there is little to no latitude regarding what footwear is considered appropriate. Even the way shoes and boots are laced is often governed by a regulation. The exception is during physical training, or PT, when athletic shoes are often acceptable in lieu of boots.
Hybrid Solutions
Sales is an example of a profession that requires many hours on foot, but also a professional look. To serve this need, many shoe manufacturers offer athletic shoe-style sole enhancements and liners, providing the comfort of a pair of trainers with maximum polish. These solutions are also good for doctors, insurance adjusters and other fields which equally value presentation and comfort.