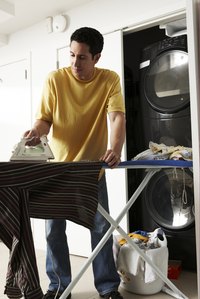 Although it's certainly convenient to chuck your dress shirts in the dryer after washing them, some shirts need to be air dried. However, most shirts -- regardless of fabric type -- can be ironed for the crisp, clean look favored in buttoned-down environments. Knowing what fabrics should be air versus machine dried ensures shirts fit as you expect, and could spare you the grief of destroying a good garment.
Silk Shirts
Silk is a fine fabric that is easy to damage and stretch out of shape, widely used in dress shirts. Like silk ties, silk shirts should be dry cleaned when possible. However, a gentle hand-washing is acceptable in many cases, followed by air drying on a rack to keep the fabric in its proper shape and prevent shrinkage. Silk may be ironed flat if you use the proper setting on a dry iron (usually labeled "silk") and a press cloth.
Benefits of Air Drying
Regardless of fabric type, air drying has its benefits. In fact, many detergent companies seek to mimic the fresh smell and feel of shirts dried in the sun rather than by machine. Line drying minimizes wrinkles, eliminates static cling and doesn't beat up shirts like a dryer does. Line drying in the sun also reduces the chances of mildew and kills any mold present on the shirt.
Crisp and Clean
Once you've washed and dried your dress shirts according to preference and fabric type, it's time to press them for a clean presentation. Start by using the proper setting on your iron -- cotton and linen usually use the hottest setting, while silks and wool materials use lower temperatures. Lay a press cloth over any fabrics blended with artificial fabrics, such as polyester or nylon. Lay one side of the dress shirt over the board, ironing around buttons. Move the shirt over the board, ironing the back and pleat box. Continue with the other half of the front of the shirt, paying special attention to the placket. Iron the sleeves with a smooth crease, but don't iron over buttons at the cuff, since this can leave circular scorch marks. Iron the back of the collar, and you're set.
Denim and Chambray
Jeans enthusiasts know that machine washing in warm and drying on high is a fast way to fade the color. Denim and chambray shirts are no different. Washing by hand or on the cold setting in a washing machine's gentle cycle helps prevent bleeding and color loss. Once completed, denim and chambray should be line or rack-dried, preventing deterioration of the fabric's feel and hue. Of course, these fabrics can still be ironed for a crisper look.