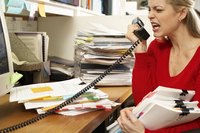 When it comes to hiring employees, offering benefits on top of a competitive salary can help attract qualified workers, but not all job benefits are optional. State laws require companies to provide employees with workers' compensation insurance. Workers' comp gives workers financial benefits if they happen to suffer a work-related illness or injury.
Workers' Compensation Basis
A work-related illness put a significant financial burden on an employee because medical problems might interfere with his ability to perform his normal job duties. Workers' compensation benefits typically provide employees with cash payments to replace wages lost due to job-related health problems, and money to cover the cost of medical treatments and rehabilitation. When a worker accepts workers' compensation benefits, he forfeits the right to sue his employer in connection with the illness.
Occupational Diseases
Workers' compensation can provide benefits for a wide range of occupational diseases. Any health problem that arises or that is worsened on the job may qualify as an occupational disease. Examples of illnesses that workers may develop in connection with work include lung disease, bronchitis, skin diseases and infections. The likelihood of developing such illnesses depends on the industry and the nature of the work an employee performs. Workers in physically demanding industries with high risk of exposure to chemicals and particulate matter, such as mining, manufacturing and construction, tend to be at an elevated risk of occupational diseases.
Stress
Stress-related illnesses such as emotional and digestive problems may be covered by workers' compensation. According to Nolo, about half of the states recognize stress as a valid basis for workers' comp claims, and cases involving stress are on the rise. If a worker can show that stress has reached the level of a disability, the employer generally has make accommodations to remedy the issue, such as reducing work hours or providing a quieter workspace, even if there is no payout under workers' compensation.
Paying for Benefits
Businesses typically provide workers' compensation benefits by purchasing insurance plans that pay out benefits on their behalf when workers make claims. Alternatively, a business can choose to self-insure, which essentially means it takes on the risk of insurance and pays for claims out of its own pocket. It is up to employers to pay for workers' compensation coverage: employees cannot be forced to pay for workers' comp.