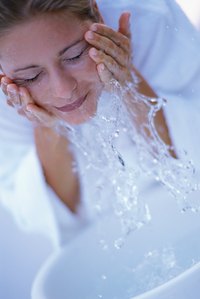 The way you take care of your skin can make the difference between healthy, glowing skin and a dull, sallow complexion. Proper skin care, which involves cleansing, toning and moisturizing, also helps delay the skin's natural aging process. You should follow this basic skin care regimen twice per day -- once in the morning and once at night before bed.
Skin Basics
The second layer of your skin, called the dermis, contains sudoriferous, or sweat, glands and sebaceous, or oil, glands. The sudoriferous glands produce sweat, which is a mixture of water, urea, electrolytes and lactic acid. The sebaceous glands secrete sebum, which contains fatty substances like oil and waxes. The secretions from these two glands mix together to form a layer on the skin called the acid mantle. The acid mantle, which has an acidic pH of 4.5 to 5.5, protects the skin from bacterial growth. The acidic environment is too hostile for bacteria, which thrives in alkalinity.
Cleansing
Cleansing helps remove dirt, excess oil, makeup and any other environmental pollutants from your face before you moisturize with night cream. Using an appropriate facial cleanser is essential because ordinary bar soaps and body washes are usually harsh and alkaline. Washing your face with a bar soap can strip your skin of its protective acid mantle, leaving you susceptible to the bacterial invasion that causes breakouts and acne. Cleanser should be removed with tepid to warm water and used once in the morning and once at night. Choose a cleanser that is appropriate for your skin type.
Toning
Many people skip toning, but it is a vital second component of the cleansing process. Toners, also called astringents or skin refiners, remove any dirt and oil left behind by your cleanser and return your skin to its natural pH of 4.5 to 5.5 after you cleanse. Toners also hydrate and soothe the skin. Apply toner after cleansing with a cotton ball or cotton square and let it absorb into your skin, rather than removing it with warm water like a cleanser.
Night Cream
Night creams are usually thicker and contain more active ingredients that promote cell renewal, like vitamin E and alpha hydroxy acids, than daytime moisturizers. This is because your skin cells renew 30 percent faster while you're sleeping than when you're awake. Apply your night cream while your skin is still moist from your toner. This helps trap the moisture on your face, allowing water to seep into your skin and hydrate it.