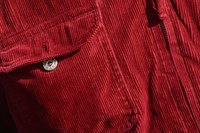 Style, cut and fabric work together as integral parts to create silhouettes. Certain textiles, however, give mental images of specific looks worn for different occasions such as special events or leisure wear. Textile, such as corduroy, comes in a variety of weights and are easily identifiable by the vertical parallel ridges, referred to as cords or wales. This type of pile fabric is made by floating extra fillings of crosswise yarn over the lengthwise warp yarns. After the yarns are woven, the floating yarn is cut or singed and then brushed to form the cord effect. The weight of the corduroy in conjunction with the garment silhouette, such as pants, dictates the style group.
Pinwale and Pincord
Lightweight corduroy, referred to as pinwale or pincord, is available in a variety of weights and blends. The number of wales, or lengthwise ridges, per inch determines whether the finished cloth is fine or heavy. The fashion industry adheres to a general rule: a higher wale count produces a finer and lighter finished corduroy, while a lower wale count creates a thicker and heavier finished material. Pinwale or pincord, which is the finest corduroy, begins the wale count at 16 and above. Although lightweight corduroy has traditionally been associated with jackets and vests, apparel manufacturers have adopted the fabric into tailored pant silhouettes.
Wide Wale
Thick, heavy weight corduroy fabric is identifiable by an extra wide wale. Standard corduroy, such as 8 or 11 wale, is generally used for weekend wear like cargo pants. However, this same fabric, cut into a trouser or stylized pant, removes the casual look and transforms it into dressier bottoms. When choosing the thickness of the corduroy for sewing construction, keep in mind the design of the pant. For instance, heavier corduroy with large back and side cargo pockets do not apply to dressier styles. However, using the same wide wale corduroy for silhouettes with shaped front pockets and contoured front and back rises alters the cut of the pant.
Silhouettes
Since the cut and style of the pant dictate whether the garment is leisure or dressy, it is also important to consider the weight of the corduroy during the design process. For instance, this fabric is available in different fabric blends such as 96 percent cotton and 4 percent Lycra. The stretch corduroy caters to form-fitting silhouettes. When pinwale is used for a pair of tailored, slim leg pants, the shape of the pants is sleeker. Wide wale pants, cut in a straight fit without back pockets, removes the bulkiness of heavy-weight material but produces a boxier shape for casual pants. Typically, cords with bulkier silhouettes are made with 100 percent cotton while cords that have streamlined shapes are made with fabric blends.
Dress Pants
Pairing corduroy pants with streamlined or tailored silhouettes such as shaped jackets, form-fitting sweaters and fine blouses, dresses up the pant ensemble. Other factors like selecting neutral colors such as cream, camel brown or burgundy, as well as finding the right silhouette for your body shape, changes the silhouette. For instance, if you are pear-shaped, which refers to a wider bottom than the upper body, choose a straight leg cut with a slight flare at the leg opening to create the illusion of slimmer hips. Remember, pairing pinwale or wide wale bottoms with classic jackets and tops as well as accessorizing the ensemble with stylish shoes and handbags, instantly dresses up the corduroy pant.