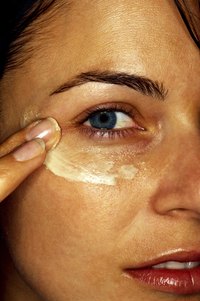 Eye cream does not cause wrinkles; however, improper application just might. The skin around the eyes is thinner, drier and more prone to moisture loss. Therefore, unnecessary tugging and pulling during application could stretch the delicate skin and initiate wrinkles. These repetitive movements, along with natural aging, pollution and sun exposure may cause wrinkles around the eyes. A minimal amount of eye cream applied with a light touch, gives the eyes a smooth and youthful appearance.
Purpose
Eye creams do not cause wrinkles; on the contrary, they are made to address specific concerns such as fine lines, crow's feet, sagging and sensitivity. The skin around the eyes is the thinnest and most sensitive skin on the body. Therefore, it needs a cream designed to nurture this delicate area. Eye creams hydrate and plump fine lines and crow's feet, making them less noticeable, while also helping to tighten and promote resiliency during repetitive movements such as smiling, laughing and frowning.
Sensitive Eyes
To address a specific need, read the ingredient list. Eye cream does not promote wrinkles; however, skin that is over-sensitive around the eyes can develop fine lines and redness due to ingredients found in eye creams that are not suited for sensitivity. Retinol, a derivative of vitamin A, stimulates cell turnover and collagen production, which strengthens skin and makes fine lines less noticeable. However, retinol may not be suitable for sensitive eyes. Eye creams with neuropeptides work best for sensitive eyes. Neuropeptides also encourage collagen and elastin production but are much gentler to the skin. Vitamin E has anti-aging properties and soothes and protects sensitive skin around the eyes.
Application
Eye creams may not cause wrinkles but the application process might. The delicate skin around the eyes loses elasticity and becomes thin with age due to a natural decrease in collagen production. This skin requires a light touch when applying eye cream. Eye cream should be applied with the middle or ring finger, which exerts the least amount of pressure. Rub a few drops of cream on the eye lid from the bridge to the outside eye. Rub a few drops of cream under the eyes, just above the cheekbone moving the finger from the outside corner of the eye towards the bridge. These gentle movements minimize stretching of the skin.
Considerations
The delicate skin around the eyes has fewer oil and water glands. Moisturizer used for the face may not be rich enough or address a particular need such as crow's feet, dark circles, puffiness or sagging. A small amount of eye cream goes a long way. When choosing eye creams with retinol, use a small amount before bedtime only. Retinol creams make skin more sensitive to sun and may dry out skin causing fine lines to appear. Remember, the earlier eye cream is used, the less fine lines will be noticed during mature years.